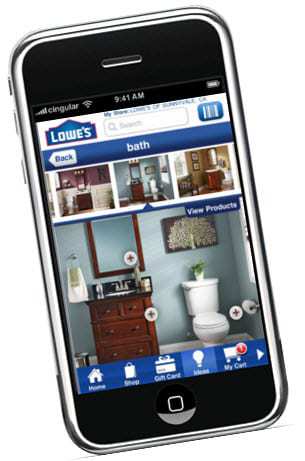 Lowe's, the home improvement chain, has decided to use a new iPhone app to help to boost the foot traffic to its locations by helping consumers to shop and compare products, and design their home projects.
Customers are now able to use the iPhone app to look through the inventory offered at Lowe's and shop for what they want. They can obtain this free app from the Apple App Store. According to Lowe's, the company is the second-largest retailer for home improvement products in the world. It has 1,775 locations in the United States, Canada, and Mexico.
A Lowe's spokesperson, Colleen Maiura, explained the goals of the retailer, saying that "Empowering consumers with the ability to access information via their preferred means is a core tenant of our business at Lowe's." She went on to say that Lowe's is continually evaluating the different ways in which consumers prefer to interact with the company and its brand, and they have identified mobile devices as important media in this regard.
Another part of the company's mobile strategy is the use of Quick Response (QR) codes that are placed in-store so that shoppers can read customer reviews, watch videos, and make product purchases using their mobile devices.
Customers can also use the new app to make purchases ahead of a project so that they can either have them delivered, or they can pick up the completed order at the nearest Lowe's location. The GPS in the mobile device can be used by the app in order to identify the nearest store if the customer needs assistance.