The National Mint Goznak and the country's Central Bank revealed the quick response codes on two bills.
The Central Bank of Russia and the National Mint Goznak have unveiled QR code currency bills on both their 200 ruble and 2,000 ruble bills. The front of each of those banknotes now feature a quick response code that can be scanned using a smartphone and barcode reader app.
Scanning the QR codes directs the mobile device user to the Central Bank's official website.
That site provides detailed information about the QR code currency labeling as well as the rest of the security features and overall design of the notes. Elvira Nabiullina, chairperson of the Central Bank, spoke from the office of the TASS state-run news agency in a Moscow-Vladivostok-Sevastopol teleconference. She explained that the new currency notes would be added to the general bill circulation in December.
"First in October, the new banknotes will be received in the regions that are depicted on them: the Far East, Crimea, as well as Moscow," said Nabiullina.
The new QR code currency bills will be added to the notes in general circulation following certain preparations.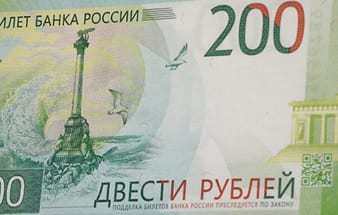 The 200 ruble and 2,000 ruble notes will be added in December in order to provide the country's banks and businesses the opportunity to upgrade their technology in order to use them.
The QR codes aren't the only new additions to the designs on the Russian currency. The notes have undergone a completely new designs and will entirely replace the old bills over time. The older designs will be gradually worked back out of circulation.
The new designs, aside from the scannable QR codes, were selected in a public vote. The 200 ruble bill features the Chersonesus museum-reserve, which is located in the Crimean peninsula annex. On the other side is the Sevastopol Monument to the Scuttled Ships.
On the other hand, the 2,000 ruble bill's design, aside from the QR code currency security feature, includes the cable stayed bridge that provides a link between Russky Island and Vladivostok in mainland Russia on one side. On the other side is the Vostochny Cosmodrome.