QR Code Press » Commercial, Featured News, Trends, United States » Using QR Codes to engage customers into learning more…
January 28th, 2011 | Add a Comment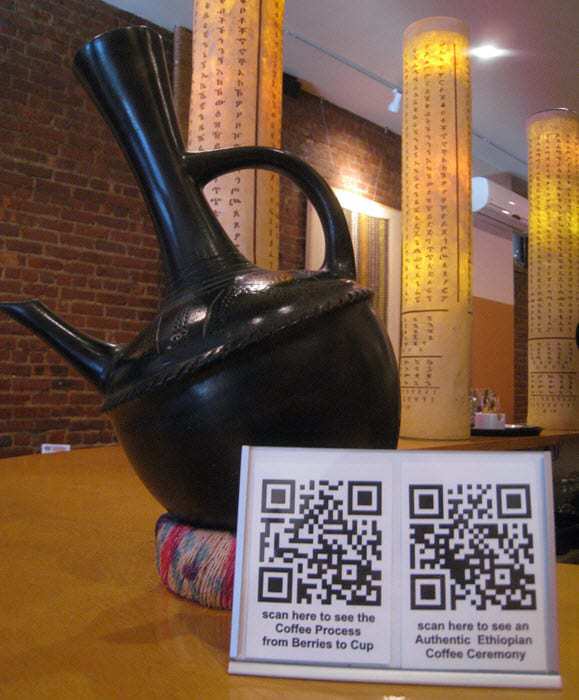 Many industries are beginning to implement QR codes as a means to directly connect with their consumers. The codes are a cost effective, eco-friendly way to advertise that specifically targets smart phone users. Businesses incorporating this method have seen success in increased traffic to their sites and overall exposure.
The Mesob Ethiopian Restaurant in New Jersey is among the first in the restaurant industry to use QR codes. Vickie Smith-Siculiano, director of marketing, and her mother, Debi Smith, generated codes and put them on menus and placards around the restaurant.
The codes are linked to the Mesob website, where scanners can find videos about recipes and Ethiopian culture – such as traditional Ethiopian fashion shows or music.
The aim is to enhance the experience of their diners by offering something they don't normally see every day. When customers come to the restaurant for the first time, they may be at a loss for what to order. Scanning a code next to an item on the menu will bring up a video that shows what the dish is as well as how it is prepared.
 Mesob has been acclaimed for its interior design and use of traditional Ethiopian art. Using the new codes is enabling them to further the immersion for those with smart phones.
"When we opened Mesob, we wanted it to be a blending of ancient cuisine with modern attitude," sayd Berekti Mengistu, owner of Mesob. "We want to create the best restaurant experience, and QR codes are a natural progression to engage our patrons."
Filed under: Commercial, Featured News, Trends, United States · Tags: Ethiopian culture, Mesob restaurant, New Jersey, qr code, qr code scanner, qr codes, qr codes for restaurants, qr codes linked up to videos, quick response code, restaurant industry qr codes, smart phones, smartphone apps, smartphones, using qr codes for menus
About QR Code Press and MCommerce Press
We highlight the latest in the world of Mobile Commerce news so you can keep updated with the coolest technology available! Join us and explore the changes in how the world does business with new technology like Near Field Communications that enable mobile payments, Augmented Reality Apps, QR Code marketing techniques and Social Media marketing tactics. Learn from others how you can take your mobile marketing campaign to the next level by implementing successful mobile strategies. Enjoy and thanks for stopping by!