QR Code Press » Entertainment Industry, Featured News, International, Social Media Marketing, Trends, United States » Nintendo's new avatar with QR Codes
February 28th, 2011 | Add a Comment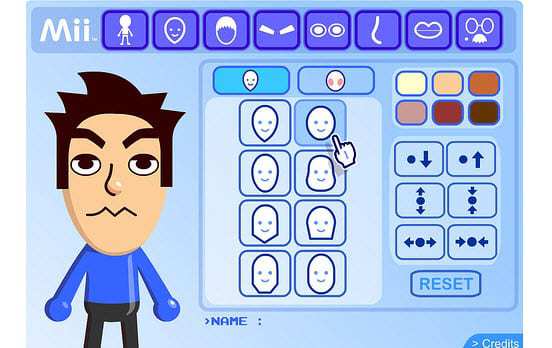 As QR codes gain popularity all over the world more companies, particularly those that specialize in interactive media, are beginning to make use of them. Gaming companies have been slow to warm up to the codes, but now Nintendo has begun favoring the codes in their latest campaigns for their new 3DS platform.
Nintendo introduced the Mii digital avatars for their Wii platform in 2006. Mii's can be customized to suit a user's personality through a variety of aesthetic options. They can also be shared online with friends or family.
The new 3DS platform, an upgraded form of the company's portable gaming console, will feature Mii's and will be utilizing QR codes as a means for sharing the avatars with the world at large.
Using the Mii Creator, users will be able to construct their avatar as well as attribute them with a QR code. The code will link to the Mii as well as some profile details akin to what one might find on Facebook. The 3DS will also come with a built in QR code reader. The codes can be deciphered using any of the mainstream QR reading applications currently available.
The game industry has long provided interactive experiences for consumers, priding itself on immersion and entertainment above all else. By using QR codes, Nintendo is hoping to foster a more involved, community atmosphere for their platform, encouraging gamers to connect with each other.
More developers are taking a liking to the codes and it is likely that gamers will see them more often in the future.
Filed under: Entertainment Industry, Featured News, International, Social Media Marketing, Trends, United States · Tags: 3ds, digital avatar with qr codes, Example of the Mii Creator from Nintendo, facebook, gaming industry news feb 2011, iphone qr code app, Mii creator, Nintendo, Nintendo avatar, qr code, qr code generator, qr code news, qr code readers, qr reading applications, QR technology, quick response code, technology news, technology news for feb 2011
About QR Code Press and MCommerce Press
We highlight the latest in the world of Mobile Commerce news so you can keep updated with the coolest technology available! Join us and explore the changes in how the world does business with new technology like Near Field Communications that enable mobile payments, Augmented Reality Apps, QR Code marketing techniques and Social Media marketing tactics. Learn from others how you can take your mobile marketing campaign to the next level by implementing successful mobile strategies. Enjoy and thanks for stopping by!