Diwali or the festival of lights is a popular Indian festival celebrated by the Hindu, Sikh, and Jain communities across the world. Spiritually, it symbolizes the victory of light over darkness and good over evil. Homes, offices and streets are decorated with colorful flowers, lights, and lamps.
An important aspect of the celebration is Rangoli – a traditional floor art created using colored rice flour, sand, or flower petals.
QR Code Rangoli by Scanova
Scanova, an India-based company that provides QR Code Generation tools, celebrated Diwali by taking Rangoli one step ahead. The team at Scanova created the first ever fully scannable and colorful QR Code Rangoli.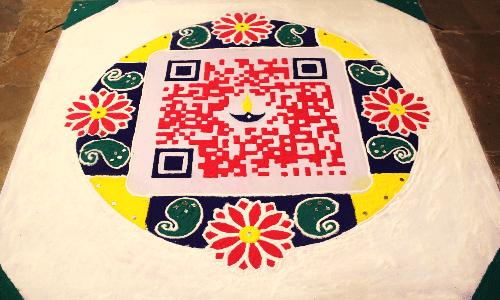 "The idea behind creating the QR Code Rangoli was to give Diwali a digital twist. At the same time, we also wanted to showcase the full potential of designer QR Codes. Even through the QR Code is made using colored sand, it is completely scannable. Go ahead and try it" – Gautam Garg, Cofounder, Scanova
Through this QR Code Rangoli, Scanova is running a promotional campaign during the festival season. When scanned, the QR Code opens a landing page that allows users to get a 1-month free subscription of the QR Code management tool.
About Scanova
Scanova is a QR Code Management tool that allows marketers to create, design, manage, and track QR Codes for promotional and operational use cases. Scanova has over 20,000 registered users across 114 countries.