There is a growing problem with quick response codes that are easy to see but inconvenient to scan.
This week, our investigators observed a number of QR code placements that were highly visible so that they would certainly attract the attention of the user, but that would require the user to go out of his or her way to actually scan them.
When a quick response code is inconvenient to scan, the odds are that people won't do it.
In order to make sure that people will have the greatest willingness to actually take out their smartphones and scan a QR code, there are certain rules that must typically be followed. The first is that they need to be told why they want to scan. A barcode on its own holds no real appeal to the human eye and they are now common enough that marketers cannot rely on novelty to generate enough curiosity to encourage scans. Next, it must be placed somewhere that people will actually notice it. If they don't see it, they won't scan it. Finally, it needs to be located in a place where it will be easy to scan. As was noted last week, if a consumer would have to run alongside a bus to scan a barcode on the side, the odds are slim that it will be used.
The following are examples of QR code marketing and their varying levels of convenience of scanning.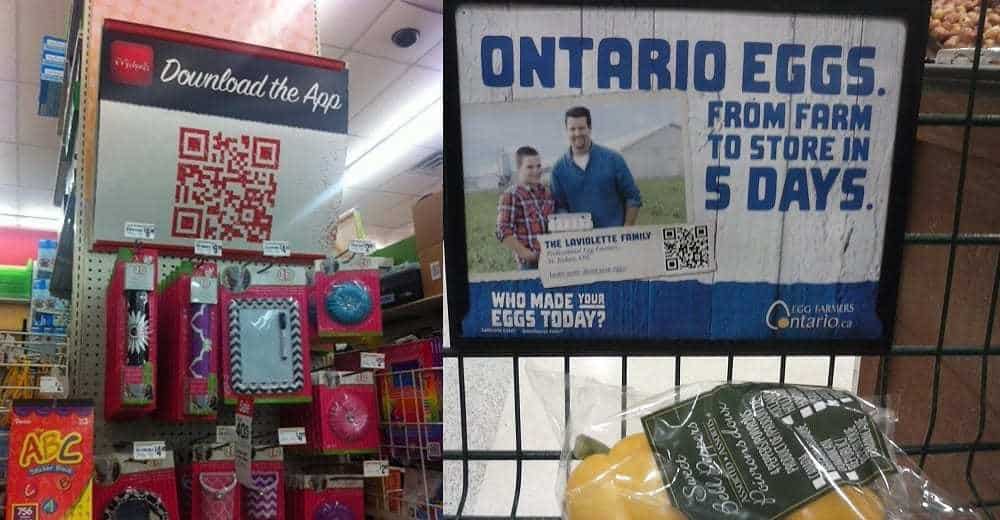 Michael's Arts and Crafts – While the QRcode was quite large and prominently displayed, the store failed to generate an actual call to action. While the sign said "Download the App", it didn't specifically tell the consumer to scan the barcode to do so. Though an app download could be an appealing reason to scan, there might have been a better opportunity if it linked to a weekly craft idea video, particularly if it had to do with the product featured below it. The most disappointing part of this barcode was that scanning linked to a "page not found."
Egg Farmers of Ontario – In Canada, a quick response code was spotted on an ad inside a supermarket shopping cart. While it was placed in direct sight of the consumer, its location presented certain problems. The first was that it was visible only when the consumer's cart was empty – presumably at the start of the shopping session. At that time, he or she is entering the store, deciding where to go first, looking at products, and is possibly digging a shopping list out of his or her pocket; it could easily be missed.
Once the consumer settles into the experience, the cart is already on the way to being full and the ad is covered. In this case, the barcode was also quite small, meaning that in order to scan the code, the shopper had to walk around the cart and bend over the side in an inconvenient form of shopping cart yoga in which few are likely to partake. That said, for our determined investigators, scanning did actually reveal an interesting page with a video about one of the farm families that raised the eggs and a tab for recipes that use the products. If a little bit less physical flexibility was required, this could have been the perfect ad. Namaste.

Sleep Number Bed – In an ad printed in AARP magazine, this specialty bed company provided a QR code that instructed its viewers to scan in order to obtain a free $50 savings card. This was placed in a position that could be easy to scan, it was clear why the consumer should scan, and it was easy to use. This is among the ideal ways in which these barcodes could be used.
After seeing inconveniently placed QR codes, our investigators also discovered one location that would have been perfect and in which the opportunity is being missed. Big Mama's Pizza in Los Angeles offers a massive pizza. The inside of the box lid provided a missed opportunity to place a quick response code that could be scanned to view promotions, obtain coupons for future purchases, or to have fun through a video that allows the customer to see how that gigantic pizza was made.