QR Code Press » Featured News, International, Mobile Commerce, QR Codes » Turkish soccer fans use QR codes to insult opposing teams
January 31st, 2012 | Add a Comment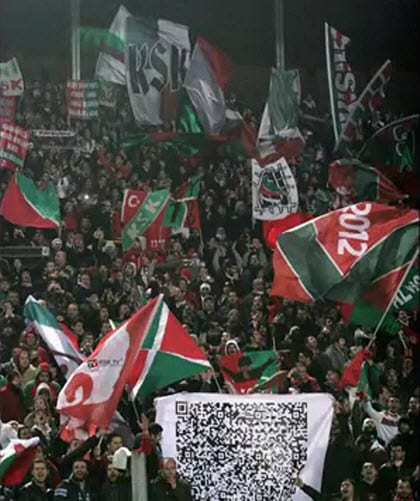 QR codes may have risen to prominence because of their use in marketing, but the codes are famously versatile and are beginning to catch the interest of people all over the world. While consumers have become leery of the codes because of their ability to hide malicious content, they are growing more comfortable with using the codes themselves. This is particularly true in the world of sports, where fans have begun using the codes to sling insults at supporters of opposing teams.
In Turkey, soccer fans have been using QR codes for this exact purpose. When scanned, the codes usually link to basic text insults or inflammatory pictures. During a game on Monday, fans of the Karsiyaka soccer team hoisted a giant QR code banner into the air to insult the fans of the opposing team Goztepe. In Turkey, Karsiyaka fans have a somewhat violent reputation. In the past, fans have clashed with local police and their antics have even delayed games indefinitely. During this week's game, however, fans opted to use the QR code instead of risk more trouble.
QR codes are certainly an effective way of reaching out to people. The codes are popular marketing tools, but they are gaining traction amongst activists as a form of peaceful protest. Sports fans can use the codes for a variety of purposes, including throwing insults at other fans.
Filed under: Featured News, International, Mobile Commerce, QR Codes · Tags: 2d barcode, barcode banner, giant qr code, giant QR code banner, Goztepe, Karsiyaka fans, message in the qr code, qr code, qr code banner, qr code insults other team, qr code message, qr code sign, soccer fans display qr code, soccer fans use qr codes, turkey soccer, turkey soccer fans, unique qr code campaign, unique ways to use codes, unique ways to use qr code
About QR Code Press and MCommerce Press
We highlight the latest in the world of Mobile Commerce news so you can keep updated with the coolest technology available! Join us and explore the changes in how the world does business with new technology like Near Field Communications that enable mobile payments, Augmented Reality Apps, QR Code marketing techniques and Social Media marketing tactics. Learn from others how you can take your mobile marketing campaign to the next level by implementing successful mobile strategies. Enjoy and thanks for stopping by!