Judging by their ubiquity, it's safe to say that QR (Quick Response) Codes are the latest big thing in the world of e-commerce. Look around you; they're printed on menus, posters, free-standing cardboard advertisements, and product labels. Where will you find them next? Footwear? Foreheads? Household pets?
Embedded Codes
If you guessed "the exciting world of online social media", then you win. Announcing the arrival of embedded QR Codes! Yes, now your e-mails, website, digital signage, and other online media can experience the power, convenience, and trendiness of QR Codes. Linktagger.com, a QR Code management platform, has announced in a September blog post that they will be launching embedded QR Codes in 2013 Q4. This means that QR Codes, something normally found on physical media, will successfully make the leap to virtual media, opening up new opportunities for marketing.
Linktagger is also exploring embedding QR Codes on hardware that has small LCD screens such as switches and routers, which when combined with Application Programming Interfaces (API), will result in real-time QR Code creation and presentation.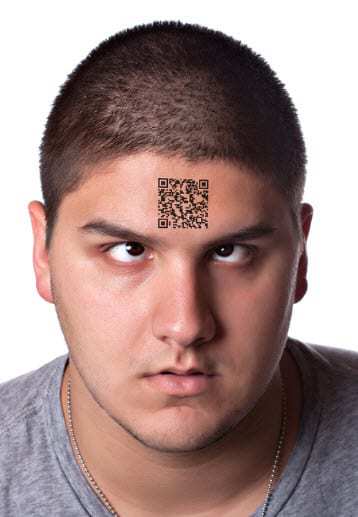 QR Codes, when scanned with a smart phone, tablet, or other similar device, enable the user to quickly access a website, display data, or connect to a network, provided the device has a QR-scanning app. The QR Code is in essence a two-dimensional bar code, elegant in its simplicity and can be used to lure in the casual visitor who otherwise wouldn't want to be bothered following links or typing anything elaborate. Businesses use QR Codes in their marketing in order to link prospective customers with videos, surveys, coupons and discounts, contests, additional content that can't be fit onto a physical label, and much more.
Getting Online Visitors More Involved
Up until now, QR Codes have been used by companies to drive customers to online content. The codes serve as a bridge which people employ to go from interacting with an actual, physical product (a poster, a product label, a direct mail piece), to some online destination. But with the QR Codes now actually embedded in an e-mail or a website's page, businesses can use the technology to send people who are already online to another destination with little effort.
Uses For Embedded Online QR Codes
You may ask what the point is of embedding QR Codes onto a web page or e-mail. After all, the customer is already online, right? But the QR Code can be used as a way to quickly deliver more content to the visitor. You can embed a QR Code into your website so as to send a map to where your business is located, or maybe some extra contact information. Picture a customer using their smart phone to scan a QR Code on your website in order to get a valuable money-saving coupon and having it available on their mobile device. After all, if someone is using a laptop or desktop to do their web-surfing, it's rather unrealistic to expect them to be lugging it around with them when they're off for a night on the town. But providing great deals via a QR Code on your site, something that they can load into their portable device, now that's a game-changer.
Byline: John Terra has been freelance writing since 1985, and has written about a wide variety of topics, everything from geothermal HVAC, to gaming.