The transportation system is integrating the barcodes into its RuPay-based payments.
The Delhi Metro airport express line has received an upgrade involving a QR code ticketing system. This allows customers to complete their transactions in a contactless way in order to ride the train.
The airport express line is the first to use the quick response codes, though expansion will follow.
The Delhi Metro Rail Corporation (DMRC) announced the introduction of the QR code ticketing system on top of other contactless payment opportunities for passengers. The DMRC has been investigating a range of different contactless options for riders to use as a response to the COVID-19 pandemic.
The DMRC recently invited Expression of Interest (EOI) from private businesses in order to overhaul its existing automatic fare collection (AFC) technology. The goal was to improve the use of contactless tech, particularly through the use of smartphones. Quick response codes were seen as a top option due to the fact that they are affordable to implement, fast and simple to use and are compatible with virtually any smartphone. The ultimate goal is to roll out the QR barcodes, RuPay and bank account-based ticket purchasing throughout the entire Delhi Metro network.
The airport express line is the first to receive the QR code ticketing system as well as the NCMC.
That airport express line uses the barcodes in addition to the National Common Mobility Card (NCMC) for its payment transactions. The NCMC initiative was rolled out in December 2020 by Indian Prime Minister Narendra Modi.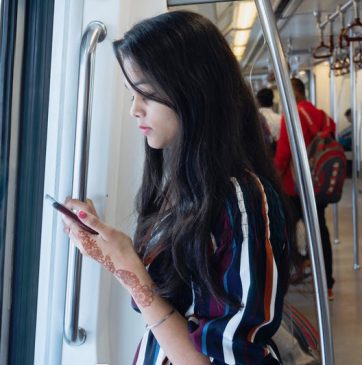 The next step will be to bring the quick response codes to the ticket payment options throughout the nine DMRC corridors. This will mean making the barcodes available to riders across 245 stations spanning nearly 200 miles. The goal is to complete this transition next year.
"DMRC has invited expression of interest for implementation of QR code, EMV (enabled Account Based Ticketing (Master/VISA), and RuPay based ticketing," said Auj Dayal, Corporate Communication Executive Director at the DMRC.
The DMRC rollout of the QR code ticketing system is following the same NCMC standard model laid out by the Union Housing and Urban Affairs Ministry.