If you are not aware of what a QR code is then… it is a two dimensional barcode, also referred to as a "Quick Response Code". The code can be scanned by a Smartphone camera for transferring the information directing onto your phone. QR codes can be used to redirect the user to a website, deliver a vCard and even make a phone call. You can also paste the QR codes at different places, for instance, if the QR codes are applied on the Dell Vouchers, people will get the benefit of many deals and offers by scanning the code related to the active vouchers at that time.
Here are some more ways by which QR codes can be used creatively.
1. Marketing Business with QR Codes
While the QR codes are a big hit in Japan, they are quite a start up in the U.S. The main challenge has been getting past having a QR code scanner in their phone, which can be easily downloaded through your app store – most of them are free too! When QR codes are used for advertisements, it is best if the provider/business includes instructions, this helps the user warm up to the whole scanning process. Also, make sure if you want to use QR codes for your business marketing, then you need to see if the codes really suit your type of business as well as target your audience.
2. Business Cards
QR codes on business cards are the most common way to use these them. All you need to do is place the QR code on your business card rather than stuffing too much information that might overwhelm the recipient. Give them the link to your profiles in LinkedIn, Facebook, Tumblr, Twitter, Delicious, StumbleUpon and any other social networking site, which has a page for marketing your business or even your personal profile.
3. Laptop Stickers
You would be able to get connected easily and seamlessly, when you are in the coffee shop if you have pasted the sticker of the QR code of your website or the vCard to your laptop. This isn't just for computers or laptops alone, try to stick them everywhere you want from the refrigerators, to bulletin boards in local businesses.
4. Go Foodie
The voucher codes with QR codes can be presented with the pizza, burgers and the meal plates in the local restaurants too. It may sound like an attention grabber rather than an authentic marketing strategy. But all you need is to grab the attention of people, and you get what you want!
5. Storefront Displays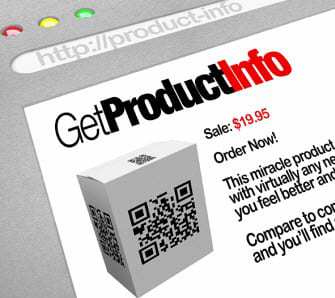 Storefront QR codes make your visitors transform to a well informed customer. Provide your audience with unique content that tell them all about your company. It seems like only when the customers have enough information in hand will they go for the product or service. For example, when you apply QR codes on Dell computers giving information on what you sell, you can make the relevant content linked and the audience will know all about Dell products or whatever your product is through a short (recommended) video.
6. Mail Postcards
When you mail the conventional postcards, people throw them in the trash, and this happens in most of the cases. When you apply QR codes on postcards, the codes grab their attention and arouse curiosity, unlike when the whole information is pasted on the postcard. The best attention grabber is to offer an exclusive deal if they scan your code.
7. QR Codes on Costumes
You may wonder if this can happen, and yes it can! You can place the QR codes on the T-shirts, and it certainly makes people turn their heads. This is something more creative than all the ideas listed here and has been successful in most of the cases. Maybe for Halloween, you can create a scary QR code, linking to your favorite fright night movie or even your own video.
8. E-commerce
Create QR codes that can lead to easy to use shopping carts and and if it is associated with discount voucher codes it will definitely promote the e-commerce sales through a "Hot Sale" of some sort.
9. Likes and Follows
Create QR codes that link to the Facebook page of your business, thus creating an easy way for a person to comment and maybe even generate more "Likes".
10. Phone Calls
QR codes can send text messages and can make phone calls. Create the codes for dialing the predetermined numbers to market your business and you can also generate text messages through these QR codes.