A high school student from Ohio has used her creativity to pay homage to victims of school shootings.
Eighteen-year-old Gina Warren of Ashville, Ohio, designed a QR code graduation cap for her graduation ceremony at Teays Valley High School. Anyone who scans the unique 2D barcode will their phone will be shown a list of students killed by gun violence in US high schools.
The "ridiculously long" list of students killed goes all the way back to the 1999 Columbine High School massacre.
Warren compiled the list of names of the students killed in US high school shootings herself and built the "ridiculously long" list using Wikipedia and other sources, including gun control advocacy organization Everytown for Gun Safety, according to CNN.
The list covers 20 years of school shootings and starts with the most recent STEM School Highland Ranch shooting in suburban Denver and ends with the student victims of the 1999 Columbine High School massacre.
Warren posted the tweet "i decorated my graduation cap" on May 9, which shows how to scan the QR code graduation cap and redirects to the list she's called "I graduated. These high school students couldn't." The tweet has since gone viral, garnering over 300k likes and over 92k retweets.
i decorated my graduation cap pic.twitter.com/FBzQ8BTIxo

— Gina (@Gi10eight) May 9, 2019
Warren wants people to look at her QR code graduation cap and see that gun violence is a serious problem.
Underneath the list of names, Warren added "protect our students. vote." She says that she has no intention of telling others how to think or who to vote for, but regardless of what people believe, "we need to fight for a safer country," she said.
Although Warren does want to send a message about school gun violence being a serious problem in America, mostly she simply wants to honor those students who couldn't graduate as she did.
"This is mostly about honoring these kids," Warren told CNN. "I want more than anything to keep their memory alive. But looking at that list, I'm hoping that everyone is touched and sees that there is a serious, serious problem in our country."
Since posting her QR code graduation cap, Warren has gained a lot of positive attention, with other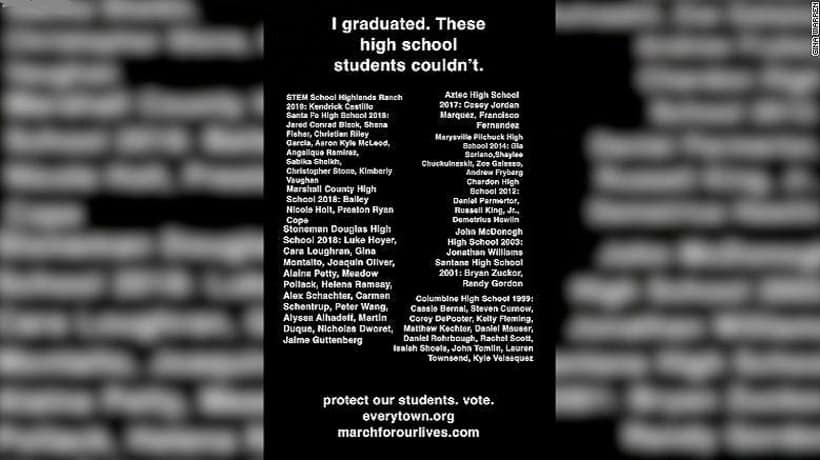 graduating students even asking her if they could put her QR code on their own caps. Warren has happily provided the code.