HP has just launched its HP 7 Plus, while Toshiba will soon be bringing out its own devices.
As the growth in smartphone sales starts to slow, tablet commerce continues to take off, and the competition grows along with it as HP has just announced the release of its newest 7-inch Android device and Toshiba revealed that it will be coming out with its own first entry based on Windows 8.1.
The HP 7 Plus has been designed for an extremely affordable launch at a price of just $99.99.
Though HP's device may be considered to be entry level, it is clearly a strategic play in tablet commerce as the specs are relatively decent regardless of the low price tag. It operates on Android 4.2.2 (Jelly Bean) and has 8 GB of internal storage, 1 GB of RAM, an Allwinner A31 ARM Cortex A7 1GHz quad-core processor, two cameras (front of 0.3 MP and rear of 2 MP), an accelerometer, and Miracast compatible 802.11 b/g/n WiFi. It has a battery life of up to five and a half hours and a 1024 x 600 display. It has a micro USB 2.0 as well as a micro SD slot that allows for storage expansion of up to 32 GB. It has a headphone and microphone port.
On the other hand, Toshiba decided to take its own tablet commerce strategy in another direction.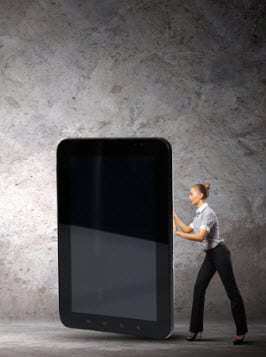 This manufacturer will be later with its additions to the tablet device industry, but it has stated that it will be bringing in two gadgets – an 8-inch and a 10-inch – that will arrive in time for back to school shoppers. Those will be based on Windows 8.1 with Bing. Equally, that same company will be putting out a cheaper 7-inch device based on Android.
All three of the Toshiba tablets will be powered by the quad-core Atom Z3735F processor from Intel. The 8-inch device will be an affordable $199 (though not nearly as inexpensive as HP's option) and will feature Encore 2 with 32 GB of storage and 1 GB of memory. The 10-inch will have the same memory and storage with Encore 2 and will cost $269. The original 8-inch Encore tablet was launched by Toshiba for $329. The IPS displays of the devices will have 1280 x 800 displays.
The Excite Go from Toshiba will be the Android powered entry into tablet commerce and will have 8GB of storage (supplemented by a MicroSD slot) and 1 GB of memory. Its recommended price is only $109, much closer to the HP 7 Plus, though it is likely that retailers will discount it for better competition. A 7-inch Excite Go tablet based on Android will also enter the market at under $100.