QR Code Press » Entries tagged with "coffee sleeve qr code"
July 24th, 2012 | Add a Comment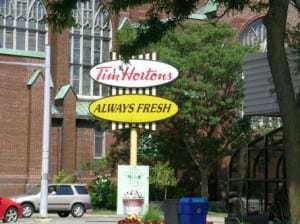 Tim Hortons UAE locations use mobile barcodes to offer the latest headlines with their beverage. Global coffee chain, Tim Hortons, has added a special QR code to its coffee sleeves in six of its United Arab Emirates locations, to provide the latest news headlines via Gulf News. This newspaper has the highest English circulation in the UAE. The coffee cup sleeves at the participating Tim Hortons café and bake shop locations in the country are printed on demand … Read entire article »
Filed under: Featured News, International, Mobile Commerce, Mobile Marketing, QR Codes, Social Media Marketing, Trends
About QR Code Press and MCommerce Press
We highlight the latest in the world of Mobile Commerce news so you can keep updated with the coolest technology available! Join us and explore the changes in how the world does business with new technology like Near Field Communications that enable mobile payments, Augmented Reality Apps, QR Code marketing techniques and Social Media marketing tactics. Learn from others how you can take your mobile marketing campaign to the next level by implementing successful mobile strategies. Enjoy and thanks for stopping by!