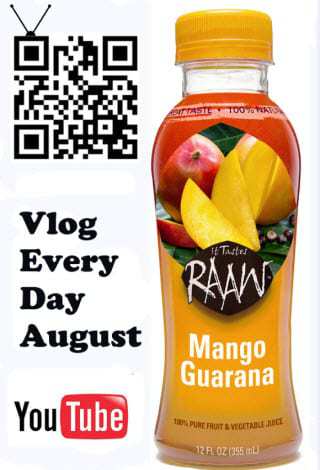 Is product packaging with QR Codes the new media distribution network?
During the months of April and August, several thousand YouTubers participate in a semi-annual online event called: VEDA (Vlog Every Day in April/August). Raw Foods International, a Miami based manufacturer of natural fruit and vegetable juice blends, is featuring a new VEDA video on their Mango Guarana QR Code everyday in August.
Distributed in 42 states and Canada, consumers that scan the QR Code with their smartphone will see something fresh whether they are in the grocery store or are at home. US based YouTubers featured on the QR Code bottle receive a re-useable grocery bag and product discount coupons.
Currently, the Mango Guarana QR Code, created on the Microsoft Tag site, is linked to a mobile enabled blog landing page. Videos are easily changed daily by moving videos in a YouTube Playlist to the top of the list with a couple of mouse clicks.
Web Landing Page URL: http://raawesome.blogspot.com/2012/08/mango-guarana.html
Mobile Landing Page URL: http://raawesome.blogspot.com/2012/08/mango-guarana.html?m=1
VEDA August 2012 Playlist: http://www.youtube.com/playlist?list=PL6A69FDE8A436AC55
Contributed by: Jack Olmsted Multimedia Journalist digitalreporter (twitter, facebook, youtube) Port Townsend, WA