Have you discovered the beautiful yachting getaways in the Seychelles, Thailand and the Caribbean yet? An avid yachtsman will find plenty of enjoyable opportunities in these waters.
Have you discovered the beautiful yachting getaways in the Seychelles, Thailand and the Caribbean yet? An avid yachtsman will find plenty of enjoyable opportunities in these waters, particularly with the help of modern technologies that make yachting easier.
Take a closer look at these spectacular destinations to start planning your vacation here using an innovative 12knots app for yachting trips.
The Seychelles
Embarking on the seafaring adventure in the Seychelles is once in a lifetime experience. The Seychelles was discovered in the 9th century by the Arab sailors. This archipelago consists of one hundred and fifteen majestic islands. Of course, among so many islands it is difficult to choose the ones you would like to visit, and even more so, to plan your trip competently. This is exactly what our 12knots app is for, which will help you choose the right yacht and organize your trip to the smallest detail.
The Inner Islands are better suited for yachting than the Outer Islands. The most prominent inner islands are La Digue, Mahé and Praslin. These islands have a comfortable and safe marina infrastructure and magnificent tropical scenery to enjoy on your way. Seychelles yacht charters are available all year round as the weather is divine most of the time. All you need to do is open the application, select the required geolocation and a list of available yachts in the region will be shown. So choose your favorite yacht and go on a trip to the Seychelles!
The Outer Islands will be a challenge for the beginners but skilled yachtsmen will love the wild nature and adventure here.
As well as ideal sailing conditions, the Seychelles has a lot of cultural events to offer. Local culture is unique and vibrant. The capital of the archipelago, Victoria, offers great sightseeing spots in its vicinity. National Botanical gardens, the Aldabra tortoises and the Spice garden with plantations of nutmeg and cinnamon are the top places to see.
Thailand
From the yachting perspective, Thailand is one of those rare places you want to come back to again and again. Here, you will find a huge diversity of flora and fauna, pristine nature, the grandeur of ancient sanctuaries and temples, smiling people as well as modern skyscrapers and buzzing nightlife.
Thailand yacht charters open access to the Indian and the Pacific oceans so there is no shortage of exciting routes to sail. The most favorable conditions for navigation along the eastern and western Thai coast last from November to April. The app allows you to select a yacht based on personal parameters such as number of cabins, type of yacht, equipment, length of the yacht and even year of construction. This will help you personalize your journey and make yachting unforgettable!
The major yachting spot in Thailand is the famous resort of Phuket. This island has huge open harbors and a well-developed marina infrastructure. Every year, the Royal Regatta is held on December 5th to celebrate the Thai monarchy.
Some of the best yachting places in Thailand to check out are:
Phi Phi islands;
Koh Chang;
Koh Poda;
Koh Kai;
Phang Nga Bay;
Koh Hong;
Krabi.
Thai culture is colorful and exotic. Thai cuisine is amazing, centering mainly on seafood and spices. All in all, this is one of the most interesting countries to visit in the Southeast Asia.
Guadeloupe
Guadeloupe is France's overseas territory. Here, the European and African traditions are harmoniously intertwined. The island of Guadeloupe has a shape of a butterfly and is surrounded by several smaller islands of volcanic origin.
The country's major attraction is its beautiful virgin nature. Guadeloupe yacht charters will create an unforgettable experience and a lifetime of memories. You can visit Guadeloupe on a sailing yacht, powerboat, catamaran, gulet or trimaran. It all depends on your personal preferences, which are considered by an innovative and unique 12 knots application.
The coastline is dotted with numerous safe moorings ready to take in ships of various sizes. All marinas have a well-developed infrastructure where yachtsmen can get fuel and carry out maintenance and repairs.
In addition, a lot of anchorages are located in the quiet secluded areas allowing you to reach a genuine relaxation.
The western part of the island, Basse-Terre, abounds with stormy rivers and waterfalls. It is considered the most beautiful region of the country. The famous National Park and UNESCO's biosphere reserve is located here.
The southern coast is known for St Marie, the place where Columbus landed. Here, you will find the monument dedicated to this event.
Guadeloupe is also famous for its rum-making tradition. Popular distilleries among tourists are Bielle distillerie and the Distillerie Poisson.
When planning such a trip, do not miss the opportunity to take advantage of modern technologies and applications for yachting.
Grenada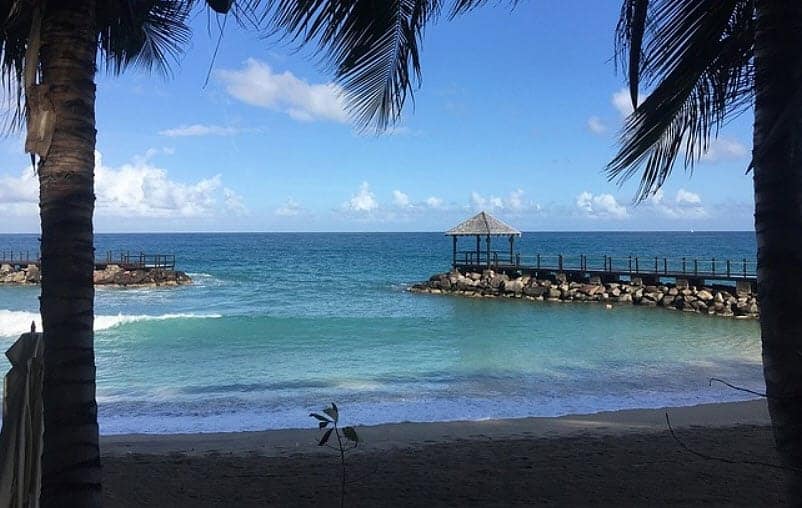 Grenada yacht charters give a unique opportunity to explore this island state also known as the Island of Spices. This relatively small country produces a huge number of all kinds of spices: cinnamon, cloves, nutmeg and ginger. The 12knots application has many advantages for the virtual organization of yachting in Grenada. We have developed an interactive map showing locations around the world with available yachts. All you need to do is choose Grenada and you will see a list of yachts that differ in type, length, number of cabins, equipment and rental price. This makes planning your trip much easier and allows you to personalize it as much as possible.
Picturesque mountainous landscapes, emerald rain-forests, delightful waterfalls and volcanic sand beaches are the main sightseeing spots to visit in Grenada.
Due to the extremely successful geographic location, yachting in Grenada is possible throughout the year. The hottest season lasts from November to April. When planning your route, make sure to visit the nearby Grenadines, a group of small islets that are famous for their delightful beaches and pristine nature.
The most convenient marina on the island is located in St. George's. The central part of the island is home to the crater of the extinct volcano and Grand Etang National Park and Forest Reserve. Volcanic springs and old abandoned plantations are very interesting to check out.
Use the 12knots application to make yachting unforgettable with innovative technologies. Choosing and renting a yacht has never been so easy!