Dresses and skirts that were controlled by smartphones drew massive attention to the catwalks.
Among the most innovative developments to walk at New York Fashion week was a new form of wearable technology that allowed the models to control LED lighting on their blazers, skirts, and eveningwear.
These high tech fashion designs were unveiled by a company called CuteCircuit.
With current and attractive clothing, this wearable technology brought an element of the future into the fashion world with the latest line from CuteCircuit. The seemingly "normal" garments were able to suddenly come to life through the simple tap of an iPhone carried by the models who wore the fashions.
The futuristic wearable technology brought in fashions that brought to mind scenes from Tron.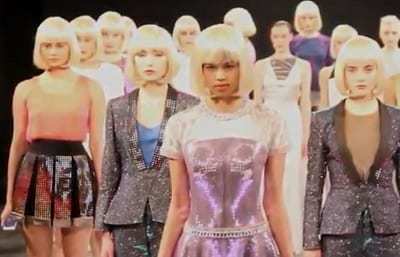 Francesca Rosella and Ryan Genz of the United Kingdom were the designers behind the CuteCircuit fashions. This pair have been working on developing this smartphone controlled technology for more than a decade. The element that they found to be the most challenging was in making it wearable.
_____________________________
Technology Quotes That Invite Thought - "We'd love to see a world where Venmo added support on the blockchain, then a Circle customer could pay a Venmo customer using their QR code or their blockchain address - and go between those instantly and for free." - Jeremy Allaire, CEO of Circle
_____________________________
Genz explained that "We always wanted to make things that weren't science fiction." He added that "We wanted to make things that were really cool and magical but we want to make sure it can be integrated into clothes that people can actually wear." Rosella went on to point out that the tech "feels like a normal garment" and that it is amazing that a wearer "cannot even feel it".
Although the development may have required a great deal of time and complexity, it is very user friendly for the wearer, according to Rosella. The garments themselves are connected by way of Bluetooth to a smartphone and a free mobile app. This gives the user control over the pattern and color that is displayed by the LED elements of the garment.
She explained that one of the garments, the mini skirt, contains what they have called a "brain" which is a tiny combination of Bluetooth blue energy and a powerful chip. When connected to a smartphone, an interface is created for allowing the wearer to change the color and pattern of what is being worn, in the form of lighting.