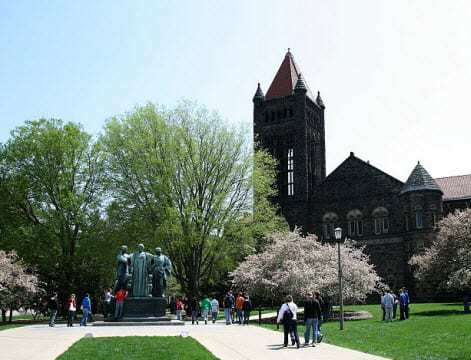 QR codes have made their way to the University of Illinois. University officials have erected a large placard in front of the school's popular Alma Mater statue. The statue has been one of the first things students are confronted with when arriving at the school. It stands as welcome to new and returning students alike and has become a symbol of pride and acceptance. Though classes have yet to start, the QR codes have already generated a great deal of traffic.
The codes link to the university's Facebook page, where students can interact with each other and the more socially-inclined members of the faculty. The school's Facebook page already has over 58,000 "likes," a great portion of which have come from those scanning the codes. Another code directs students to the school's Twitter, where they can find quick updates. While the codes have found success in the realm of social networking, they are also being used to teach students about the illustrious history of the university.
Scanning one of the codes found at the statue initiates an interactive, virtual map of the campus. Students can travel from location to location learning the history behind the school as they go. There are a number of "fun facts" available along the virtual tour, most of which involve famous alumni.
_____________________________
Technology Quotes That Invite Thought - "If your plans don't include mobile, your plans are not finished." - Wendy Clark, Coca-Cola
_____________________________
The total cost of the school's QR initiative was less than $100, showing that the codes can be part of an expansive and ambitious promotion campaign without having to spend inordinate amounts of money on execution.