Nagpur traffic police have introduced a QR codes option in the city's three-wheeled vehicles.
Autorickshaw QR codes have been introduced by traffic police in the city of Nagpur, located in the Indian state of Maharashtra. The quick response (QR) codes have been implemented by the police to help ensure the city's three-wheelers are a safe mode of public transportation for citizens.
Twenty autorickshaw drivers across the city have been enrolled in the program and provide a QR code.
The first autorickshaw QR codes have been distributed to 20 drivers across Nagpur, but this is only the start of the project. These special bar codes will give commuters who travel via rickshaw the chance to obtain the details of their driver. It will also give them the option to lodge a complaint through the QR code with Nagpur traffic police.
The codes will be posted in autorickshaws and passengers who have an iPhone or android smartphone can scan the code to obtain the driver's details.
"The QR code system will help the commuters in a distress situation," the deputy commissioner of police (traffic) Raj Tilak Roushan told the Times of India. "It has been introduced to curb crime and ensure safety of the citizens travelling in an autorickshaw."
The autorickshaw QR codes also help to provide travelers with peace of mind.
In addition to being able to learn details about the driver and lodge complaints if necessary, the QR code project also helps to improve passenger safety. It does this by allowing passengers to share their real time location with their friends and relatives through SMS facility or WhatsApp.
The deputy commissioner also said that the code includes a driver rating system and will help the city police department keep check on the drivers' behavior with their passengers.
Although there have been only 20 QR codes distributed, the goal is for all autorickshaws in the city to be covered under this project to provide citizens with better emergency response, crime prevention (e.g. robbery) and women safety.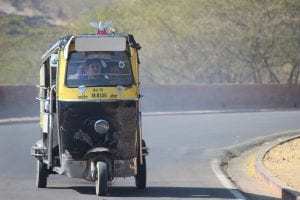 The autorickshaws QR codes project has also been welcomed by the autorickshaws union as it will help ensure that unregistered autorickshaws and illegal private rickshaws are removed from city roads.