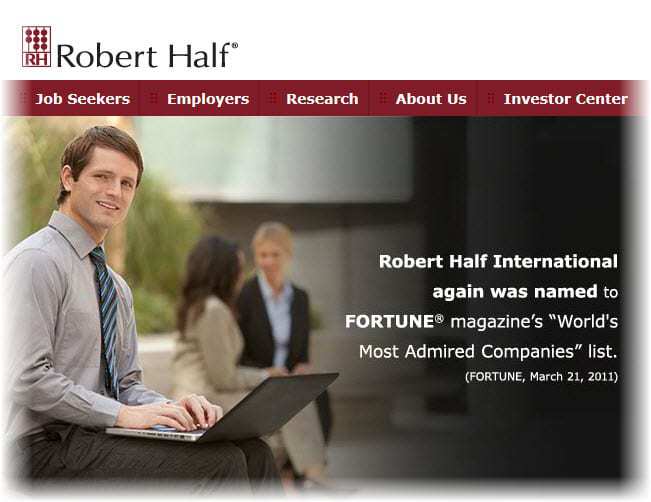 Jobseekers have begun using QR codes as a way to stand out to potential employers. As mobile technology becomes an integral part of everyday life, new ways to use these technologies are constantly being discovered. Robert Half, a member of the S&P 500 and one of the world's leading specialized staffing firms, attended this year's SXSW conference in Austin, Texas, where they used QR codes to promote their services.
We were able to get in touch with Lars Asbjornsen, vice president of online marketing and recruiting for Robert Half International, and were able to ask him a few questions about mobile marketing and, more specifically, QR codes.
How are you implementing QR codes in your marketing campaigns?
Like many companies, we have used QR codes to help our clients and job candidates find additional information/resources. For example, The Creative Group 2011 Salary Guide, a compensation guide for creative and marketing professionals that we produce annually, was designed to look like an album this year, and we provided a QR code that would allow recipients to listen to free music. We also have used QR codes as part of our trade show booth, which link to videos explaining more about our staffing services. Both of those initiatives were well received.
What challenges, if any, have you faced thus far? How have you overcome them?
We haven't faced a lot of challenges with QR codes; the biggest issue has been drawing attention to them to make sure that people realize the extra information/resources available for those who use them. That will only get easier as more firms use QR codes.
Market research is important to the success of any campaign – What made you decide to adopt mobile marketing over more conventional methods?
As a recruiting firm that places design and IT professionals, we know that our job candidates and clients are increasingly using mobile devices to gather information, so providing information in this format was a natural step.
Do you think that the codes have a future in mobile marketing, or are they just a fad?
QR codes let an otherwise non-interactive ad (print) become interactive, providing additional information and "experience." As long as adoption continues to grow it will be a viable way to market in the mobile channel.
QR codes are becoming more widely used in business. How can you stand out amongst the growing number of competitors?
The key is to offer something valuable, whether it's useful information, coupons, special offers, or entertaining video. QR codes seem particularly relevant for a B2B (Business to Business) audience versus B2C (Business to Consumer).
Will you continue to use QR codes in future campaigns?
We likely will continue, as long as our clients and candidates continue to want to receive information this way.
For more information on their services please visit them at roberthalf.com