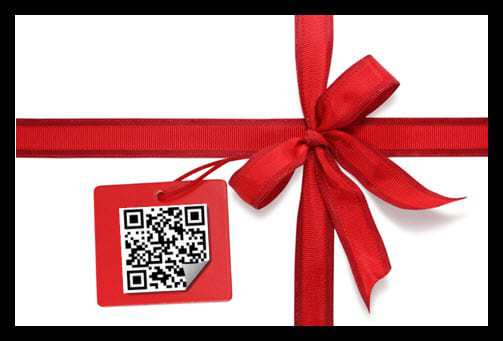 Though gift tags may always be a part of the holiday tradition, those handwritten little tickets to which we have become so accustomed to may have become a thing of the past with the invention of personalized QR code tags.
JC Penny is offering consumers Santa Tags this holiday season, providing gift-givers with the opportunity to record a voice message that the recipients will be able to hear when they unwrap their presents. This is all made possible with simple QR code technology.
The way that it works is that a QR code is assigned to the voice message. The recipient of the gift can use a smartphone or tablet computer to scan the code, instantly playing the voice message for him or her to hear. Also, many have been making their own Holiday messages at home by creating a free QR Code with a generator (found on many websites) and linking it to a family homepage or video. 
The hope is to take advantage of the hot code scanning craze that has been growing all year, but that truly exploded at the start of the holiday shopping season. On Black Friday alone, there was a 240 percent spike in the use of the scanning app called NeoReader, according to its developer, NeoMedia.
They reported that QR codes have become the most popularly used barcode, having been scanned 87 percent of the time, when compared to the mere 13 percent scans for one dimensional barcodes.
Clearly, this indicates that both businesses and consumers are hopping on the 2D barcode bandwagon. However, at the same time, gift givers had better hope that the recipients of their personalized QR code gift tags aren't as confused by them as the participants in a recent study performed by the Archival youth marketing agency.
Their survey found that among 500 students who were asked to scan a sample QR code, only 21 percent were able to successfully do so.