Tourists and locals, alike are using mobile devices to snap pictures of themselves with soldiers.
Even though the anti-government protests in Thailand have brought about a serious state of political turmoil as martial law has been declared, but at the same time, it has also generated a unique trend in the use of mobile devices as people are flocking to take selfies with Thai soldiers.
Martial law was declared by the military of Thailand last Thursday, after half a year of protests against the government.
The army's own television channel in the country ran a ticker that explained that "The army aims to maintain peace, order and public safety for all groups and all parties." It added that "People are urged not to panic, and can carry on their business as usual." In the country, the usual business involves the use of smartphones and tablets and, apparently, selfies. Panic certainly doesn't seem to be the case, particularly as the people of Thailand are becoming quite used to the sight of soldiers near their homes and businesses.
Now, the latest mobile news from the country is about the selfies that are being taken with those soldiers.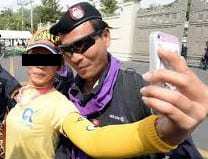 Since 1982, there have been at least 18 separate takeovers by the military. Clearly, this has become relatively commonplace in the country. Though not necessarily welcome, it also doesn't elicit the type of fear and upset that could be brought about in a country in which martial law is entirely unfamiliar to living generations.
_____________________________
Technology Quotes That Invite Thought - "People will accept your ideas much more readily if you tell them Benjamin Franklin said it first." - David H. Comins
_____________________________
Instead of rushing to hide or speak out against the military presence, the people in Thailand took off from their homes and tourists scampered from their hotels, all to be able to take pictures of themselves with the soldiers and other army service members who are heavily present on the streets.
A powerful wave of technology news stories has now started to spread around the world, each dotted with the selfies of tourists and Thais who appear to be in a rather festive mood, all things considered. Equally, though, it should be pointed out that the people are being cautioned by the military in Thailand not to use their social media accounts to spread rumors and that online services would be suspended in cases of content that is considered to be inflammatory.