This unique combination of quick response codes and mobile technology brings added features to shoppers.
Tesco has now added the next element to its mobile friendly shopping experience by introducing an interactive Christmas window display that uses QR codes and augmented reality to allow shoppers to be able to use their smartphones and tablets to browse, shop, and simply enjoy their time at the store.
This is not the company's first foray into the mobile sphere, as it had even introduced its own tablet.
Tesco brought its Hudl Tablet to the market a few months ago in 2013 and has now added QR codes and augmented reality to its offerings at 11 of its Tesco Metro locations across the United Kingdom. This gives shoppers the ability to use these barcodes and other mobile technologies to be able to look around the store's offerings and purchase what they want without ever having to step inside the shop.
The first use of the QR codes and augmented reality in the Christmas display was at the Regent Street location.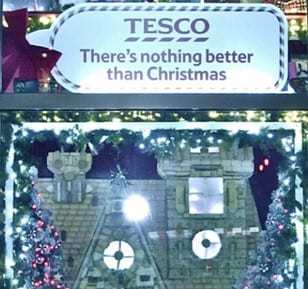 This gave smartphone users the chance to scan quick response codes and look through a virtual catalog to view some of the finest food range that Tesco has to offer, in addition to their collection of decorations and gifts. All of the items that are available in that catalog and in the store are also available online at the store's official website. It gives consumers the chance to click and purchase the items that they want so that they can pick them up without a shipping charge at their local Metro store by the next day.
Of course, the Christmas window display isn't just designed to be a shopping experience for mobile users. It has also been designed in the traditional way to bring a smile to the faces of people walking by. For example, the Regent Street location's window features a six foot tall gingerbread house in its center. It is surrounded by a wintry scene decorated in snow. That said, nestled within that festive snowy scene are some of the most popular products that the store has to offer, each with their own quick response code that can be scanned so that the item can be purchased directly.
This type of use of QR codes and augmented reality technology is becoming increasingly popular and has drawn a great deal of attention to retailer displays in the U.K. and many other places around the world.