A new youth-led voting initiative is making it possible to keep a safe distance while registering.
A new youth-led voter registration initiative in the city of Philadelphia is using QR code T-shirts to encourage people to register to vote while keeping a safe distance from others.
The initiative was officially launched this week by the Mayor's Office of Youth Engagement (OYE).
The OYE is using the QR code T-shirts to build voter registration, particularly among young voters, leading up to the November 3 general election. The effort is an extension of the First Vote 2020, which launched last year. It's aimed directly at Gen Z members, many of whom have become eligible to vote for the first time in this coming election. The goal is to keep them registered and informed for the election, while keeping people safe at the same time.
The quick response codes are used to engage with young people about the different ways they can exercise civic participation leading up to Election Day. The shirts are meant to help encourage Pennsylvania voters to get registered by the deadline of October 19. Volunteers will wear the VRTees (voter registration t-shirts) as they engage with friends, family, and peers about voting.
The QR code T-shirts have barcodes on the back that can be scanned with any smartphone.
When the barcodes are scanned, they link the smartphone user to the Pennsylvania voter registration application and the application required for a mail-in ballot. By using a barcode scan instead of more traditional means of filling out forms or handing out paper pamphlets, the volunteers and the people they're engaging can keep a safe distance from each other. Moreover, the volunteers and people they're engaging with don't have to share contact with a form, and the volunteers don't need to hand in completed forms.
Scanning the QR code T-shirts also makes it possible for volunteers to share information safely within high-traffic locations. In this way, they can reach as many potential voters as possible, encouraging them to register, without having to get too close, explained OYE.
"OYE had always intended on having youth volunteers conduct voter registration drives heading into the fall, but the emergence of COVID-19 forced [us] to be a bit more innovative," said Mayor's Office deputy communications director Irene Contreras Reyes. "They knew that QR codes would strike a great balance between being socially distanced and civically engaged. And, it would allow the wearer of the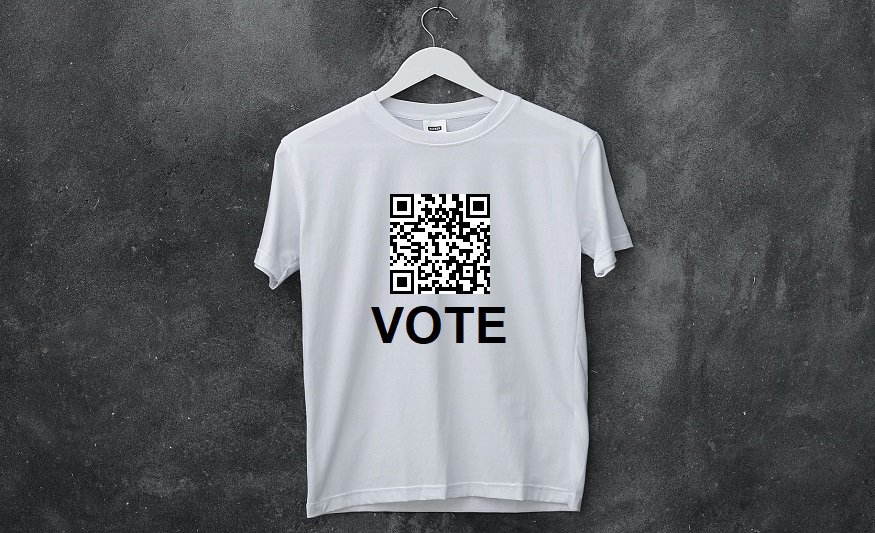 shirt to take voter registration wherever they went — as opposed to posting up at a particular site all day."