Fans of the show and movie can now visit the fictional town and learn more using quick response code scans.
The location where the "Corner Gas" television series and made-for-TV movie was filmed now features QR code signs to help visitors enjoy self-guided tours. All the visitors need to do is scan the quick response codes with their smartphones and they receive information and directions to move through the town.
The tiny fictional town is located out of the way in Saskatchewan, Canada and is drawing crowds.
Blaine MacDonald, a "Corner Gas" fan from Minnesota, explained that "We have the whole TV series at home, so we've been watching all the DVDs and my daughter really likes the whole series. So we thought we'd just stop and show her where 'Corner Gas' was all filmed at." He added that he was enjoying visiting the place and visiting all the buildings he'd seen in the show as well as the history of what the creator of the show, comedian Brent Butt, did to progress the television show.
The fictional town is located outside of Rouleau, Saskatchewan, a tiny town in Canada with a population of 453 as of 2011, the most recent statistics. The fictional town in which "Corner Gas" was set is called Dog River. Visitors use their smartphones to scan QR code signs to take a self-guided walking tour that takes about an hour to complete.
The QR code signs take visitors past fourteen different locations viewers saw in the show's run and the movie.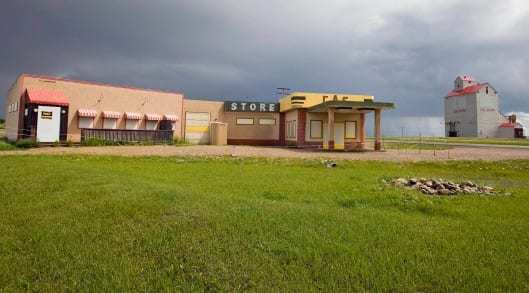 Corner Gas ran from 2003 through 2008. The characters were brought back to Dog River in 2014 for a movie that was filmed after fans demanded more from the story.
The QR codes are posted on bronze plaques that are displayed at each of the 14 places of interst throughout the Dog River town. Every scan provides visitors with information about the show, links to additional video clips as well as sneak peeks into the next feature that will be available to fans. "Corner Gas" will have an animated series that will debut in 2018. The QR code scans reveal a bit of how the animated version of the town will look.
Don Neste of Mission, British Columbia, Canada, said "It's great," after being among the first to use the QR code signs when they were first installed. "I think people that know about Dog River or the show will definitely stop in and check it out."