You may have heard or read about augmented reality helmets…
but now San Diego based Nuviz has went one step ahead by introducing world's first independent device that will give ordinary helmets a Head-Up Display. This brand new device from Nuviz is called Ride:HUD and its see through Heads Up Display technology has been especially designed for motorcyclists. The Nuviz Ride: HUD actually enables the riders to view information like navigation, weather and telemetry in the low right corner of their helmets' field of vision, where it displays transparent images through Liquid Crystal on Silicon (LCoS) Micro display.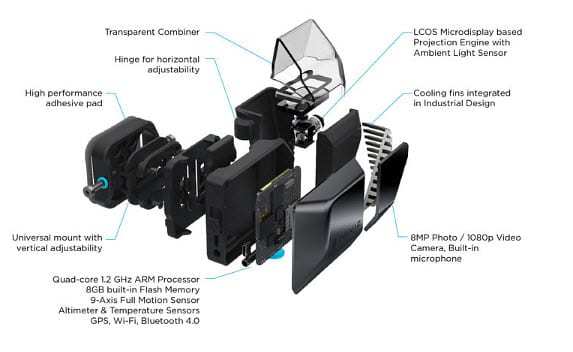 Source: Image
Aside from projecting the information the Ride: HUD will also allow the riders to shoot videos and snap still photos with it. In addition, bikers can communicate and listen to their favourite music with this amazing device that can also be paired up with a Smartphone through Bluetooth 4.0. On top of it, the Ride: HUD also allows the riders to switch between the various displays by using a control unit mounted on the handlebar. The Nuviz system also has voice activation feature, which riders can enjoy only when the device is connected with a Smartphone app called Ride: CLOUD.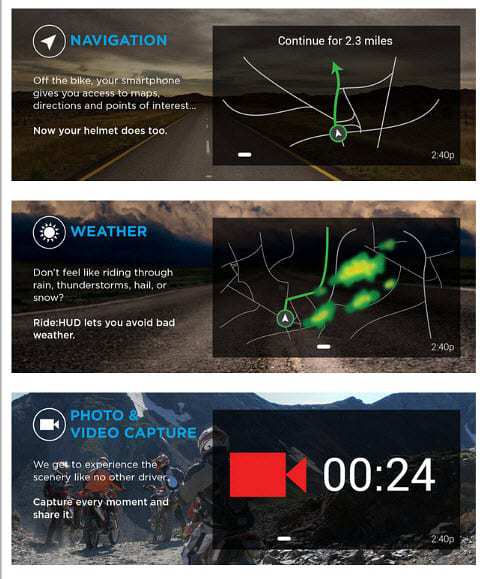 Source: Image
This amazing Smartphone app also enables the bikers to share their pictures and videos with each other. Furthermore, the Ride: CLOUD makes it possible for the riders to communicate with one another when they are on the road. According to Nuviz, the battery timing of Ride: HUD is from three to four hours after which user can recharge the device just like a Smartphone.
As far as the attachment of Ride: HUD with helmet is concerned, it uses a very strong adhesive film along with mounting plates which sticks directly to the helmet. Nuviz also claims that the both mounting plates and adhesive film of the Ride: HUD can be detached from the helmet without causing it any damage. Since the Ride: HUD sticks to the outer surface of the helmets; therefore Nuviz has made it both dust and waterproof.
_____________________________
Technology Quotes That Invite Thought - "If your plans don't include mobile, your plans are not finished." - Wendy Clark, Coca-Cola
_____________________________
Source: Image
However, in case of rain, water on the helmet's visor can distort the vision of a rider. Let's hope that Nuviz will soon find a solution for this problem, most probably by bringing the display inside the visor. To the extent launch of Ride: HUD is concerned, Nuviz is looking to make it available for public use in the summer of this year. The expected price of each Nuviz Ride: HUD unit is going to be around $599, while the Ride: CLOUD Smartphone app will be available to the riders without any charge.
Nuviz is actually a joint venture of two well known tech companies, APX Labs and Holoeye Systems. The two companies used their core specialities to develop Ride: HUD, as they both have great love motorcycling. Therefore, when APX Labs and Holoeye Systems' met through their original aerospace and defence work, they decided to bring Ride: HUD to life by using their augmented reality software and innovative technology.
Currently Ride: HUD is in testing stage and it is likely to make its debut soon after clearing all the tests. Till then, get a fine helmet for yourself from the extensive range of helmets offered at the JS Accessories' online store.
Author Bio:
This Guest post is written by Randy Martin who works for JS Accessories. He is a bike racer and blogger. Who like to write about innovative products and bike accessories.