The Riley Touchscreen joins the fashion company's variety of hybrid wearables.
Fans of wearable tech and Marc Jacobs products can now order the Riley Touchscreen Smartwatch, which is the latest Marc Jacobs smartwatch and its first to be powered by Wear OS by Google.
Convenient Magnetic wireless charging but a short battery life.
Modeled after the existing Riley Hybrid Smartwatch, the Riley Touchscreen shares the similar shape and overall physical size of the hybrid version. However, unlike its predecessor, this all-new Marc Jacobs smartwatch lacks battery life.
Consumers of this wearable technology can expect only a 24-hour battery life (depending on usage), according to a Marc Jacobs press release announcing the watch. This is substantially lower than the hybrid model which has up to six months of battery.
On the plus side, the watch does have wireless charging. A magnetic wireless puck charges the devices in three hours.
The Riley Touchscreem Marc Jacobs smartwatch is compatible with iOS and Android.
The Wear OS smartwatch platform is equipped with the Qualacomn Snapdragon Wear 2100 processor. It connects to a phone via Bluetooth technology. The watch is loaded with a variety of features including those that allow for user-friendly messaging and notifications, downloadable third-party apps, access to Google Fit, the ability to access your music library, and help from Google Assistant, all directly from the wearer's wrist.
Additionally, the device has a variety of customizable watch face and users can also change dials based on an outfit, mood or event. There are more than 1,000 combinations available. This trendy feature will no doubt appeal to smartwatch seekers who like a more fashionable wearable device.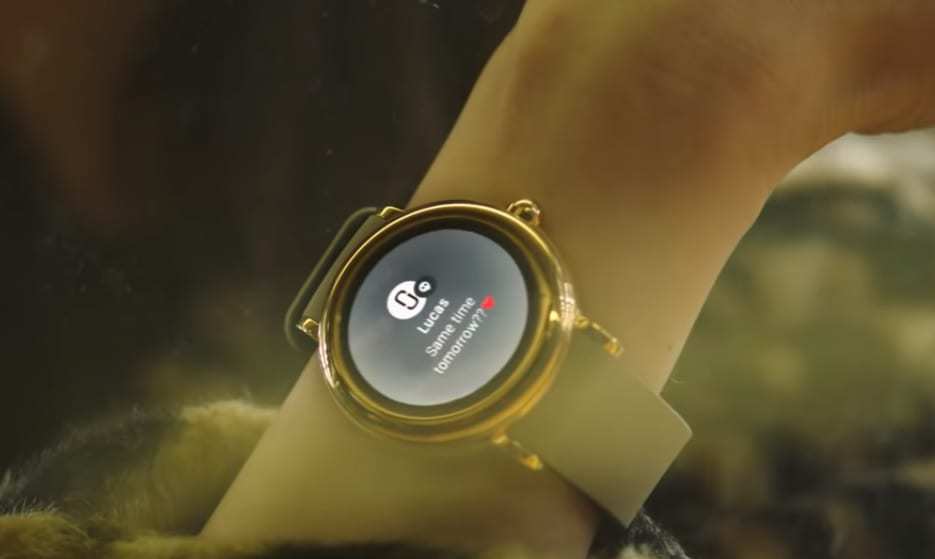 Presently there are three design choices of the Riley Touchscreen: a black case and black strap, a gold-tone case and white strap, and a rose gold-tone case with a gray strap. The initial price at the writing of this news is $295.00.
The Riley Touchscreen Smartwatch is available for purchase today from the official Marc Jacobs store and select retailers across the nation. This Marc Jacobs smartwatch is expected to become available to other markets around the world, later this year.