Join Rick Grimes and his crew for the battle of survival.
Next Games has launched its new AR Walking Dead game called "The Walking Dead: Our World." The free-to-play, location-based augmented reality (AR) mobile game is available for both iOS and Android smartphones.
Players take on zombies in their real-world surroundings.
Themed after the hit AMC TV show, based on Robert Kirkman's "The Walking Dead" comics, the AR Walking Dead game uses Google Maps and augmented reality technology to give players a map of their actual surrounding, which is populated with enemies.
Icons show where nearby zombies, infestations and caches are located. If the player is close enough to these icons, they simply have to tap on them to take on a zombie or grab and unlock the caches. The goal is to survive.
The AR Walking Dead game also supports cooperative horde battles.
The zombies will show up in front of the player and the objective is to shoot them. Players can also play with friends, engaging in horde battles via cooperative mode. They also have the capability to build out a base that offers different in-world rewards.
Additionally, during game progression, players can unlock weapons and friends to help them in their battles. Friends include popular characters from the show, such as Rick, Michonne, Daryl Maggie, etc. These survival heroes are your sidekicks and you can level them up to trade weapons and unlock special abilities.
Although some may compare the game to Niantic's hugely popular "Pokémon Go," Clayton Neumen of AMC told Variety that "The Walking Dead: Our World" isn't trying to mimic the other AR game.
"'Pokémon' is a great game, and it did a lot to innovate in this space, but our goal wasn't to make 'Pokémon Go' with zombies. Augmented reality and location gaming is a great way to bring "The Walking Dead" into our world. It gives you a chance to experience the apocalypse and live out hypothetically what you would do," Neumen said.
What's more, AMC and Next Games intend to expand the game in the future. "We see 'The Walking Dead' universe as something that lives 365 days of the year," Neuman added.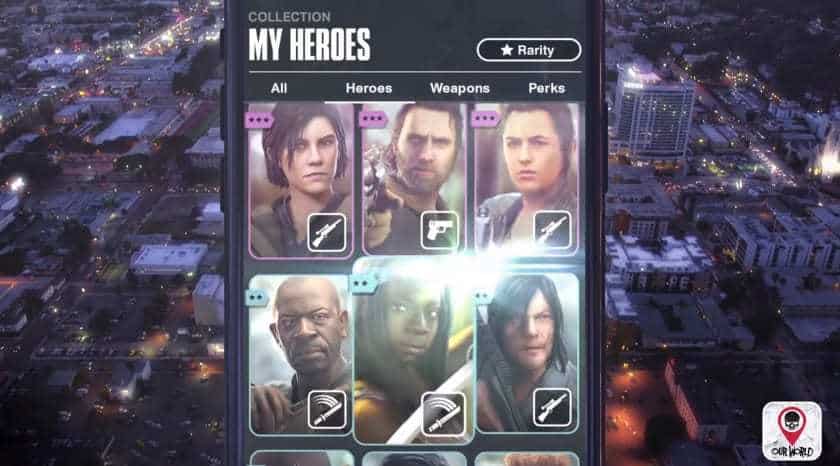 The AR Walking Dead Game is the latest in free-to-play location-based AR mobile games based on a popular franchise. Early last month, QR Code Press reported that "Jurassic World Alive" launched for iOS and Android prior to the theater release of the latest movie in the Jurassic World film franchise, "Jurassic World: Fallen Kingdom."