Mogix Accessories has announced its biggest and most unique product launch as the brand releases its new smart baby diaper bag, the Baby Bag Pro.
The launch is accompanied by a special coupon code for a 80% off discount during the next few days and while supplies last.
This brand new Mogix product is the ultimate in quality and convenience.  It is a spacious yet lightweight bag with lots of room, 11 compartments and 5 insulated pockets to keep hot or cold liquids at the right temperature all day.
Beyond the convenient design, the new smart Baby Bag Pro lets parents and guardians keep their smartphones charged all the time, no matter where they are.  This gorgeous, gender-neutral, durable gray tote includes a portable USB battery with a charging cable and a power port.  This way, you can plug in any phone or other USB rechargeable device without being tied to a wall socket.  At the same time, the water resistant, zippered pockets keep your device protected while it rapidly charges.
Every Mogix Baby Bag Pro includes a USB 10400mAh dual port power pack, a waterproof reusable storage bag, a diaper changing mat, a snack container and a free e-book providing helpful tips and recipes for busy moms and dads who are always on the go. A $76.00 value in just extra accessories.
The gray and black bag measures a roomy 18" by 11.5" by 7.5".  It has a convertible strap that allows it to be worn either as a cross-body bag or a shoulder tote.  It also easily attaches to strollers for everyday outings and is perfectly sized as a weekender or carry-on bag for travelers. This duffel-style bag's handles are sturdy and comfortable, with a padded shoulder strap and metal hardware and zippers.  The premium polyester lining is wipe-able and water-resistant, making it easy to clean.
"I came up with this specially designed Baby Bag Pro when I saw my daughter struggling to find her power bank while on the phone with my grandson's doctor, and while the two of us were juggling her two small children in the middle of a busy store. I thought, there must be an easier way, and the idea came to me. This was 2 years ago, and we are so happy to finally have this product launched," said Mogix co-owner, Dan Ryan.
Every bag is backed by a Workmanship Lifetime Guarantee +  Mogix' 90 Day Satisfaction Guarantee in combination with an 18 Month Warranty for their best selling power bank.  Shoppers are fully protected against any quality and manufacturing issues throughout this period.  Customer support is friendly and easy to reach to provide answers to questions, returns or replacements as appropriate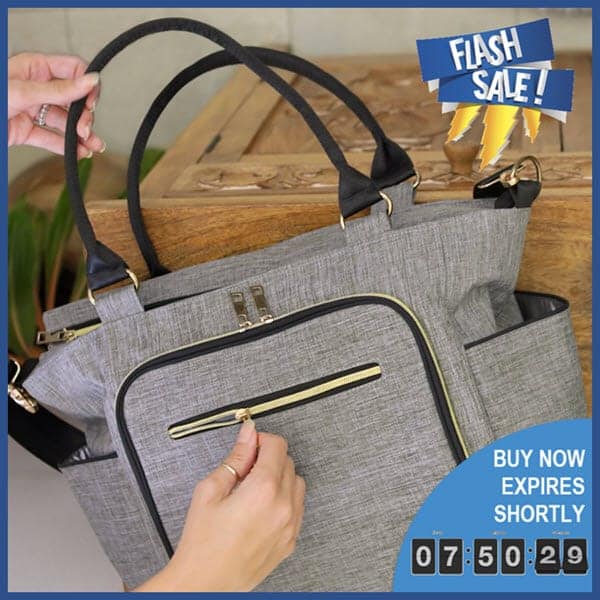 The team at Mogix Accessories couldn't be more excited about the release of this stylish Baby Bag Pro.  It makes the perfect baby shower gift.  Learn more at the brand's official product's page on Amazon.com.
Grab Your 80% Off While Supplies Last Here: https://bit.ly/2Ty5ZNh