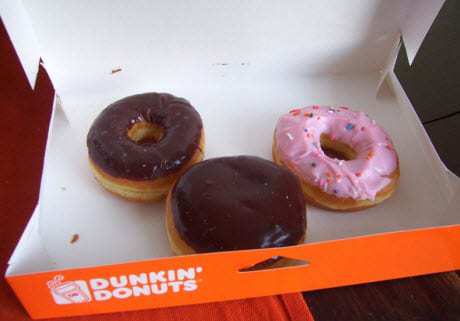 Though Dunkin' Donuts is already a part of the mobile marketplace, it has announced that it is now boosting its presence there by way of a new campaign that gives its customers the chance to win prizes and the title of "President of Dunkin' Nation" by checking in at participating locations.
In order to run the promotion, Dunkin' Donuts has integrated Facebook and Foursquare, and will continue to do so until September 23, 2011.
According to the Dunkin' Brands vice president of consumer engagement, Dan Saia, the purpose of this new mobile promotion is the celebration of "our passionate community of Dunkin' Donuts fans".
He explained that the company is continually hearing from customers who get their mornings started with Dunkin' Donuts and who rely on its products to keep them going as the day goes on. He said that the company feels that the mobile promotion was "a great way to celebrate our fans for something they're already doing" that is, going to Dunkin' Donuts locations.
He also stated that this promotion was a great way for the company to recognize the loyalty of their customers and to give additional acknowledgement to one of the most loyal to the brand.
Dunkin' Donuts is owned by Dunkin' Brand Inc. and is one of the top companies in its market, claiming to be the biggest chain of coffee and baked-goods worldwide.
In order to participate, customers can simply register for the promotion on the Dunkin' Donuts Facebook page and choose the option to check-in through the Foursquare or Facebook app.