A new report predicts that by 2020, 96 percent of smartphones in the country will have been made there.
A new mobile phone manufacturing research report has forecasted that by 2020 almost 96 percent of the smartphones sold in India will have been locally made.
India is pushing hard to boost its rate of domestic localization, according to the recent report.
Artificial intelligence company, Enixta, joined forces with the Internet & Mobile Association of India (IAMAI) to conduct the analysis and create the report titled: "'Indian Mobile Phone market: Emerging Opportunities for fulfilling India's Digital Economy Dream." The mobile phone manufacturing predictions are not difficult to believe as the figures are already headed in that direction. In fact, last year, two thirds of all mobile phones sold in India had been produced there.
The Indian mobile phone manufacturing industry also predicts that its reach will spread beyond its own borders.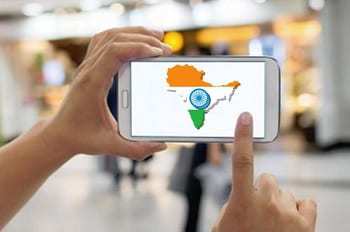 Indian Ministry of Electronics and Information Technology Additional Secretary Dr. Ajay Kumar spoke at the report's launch. Kumar was confident that within the next five years to decade from now, nearly one quarter of the global economy will be digitally driven. He explained that the online economy was the biggest opportunity India has ever seen. Moreover, he predicts that its potential will be greater than the entire ITeS industry.
At the moment, the country already represents the second largest global smartphone market. It is second only to China in terms of the number of users. That said, many predictions, not only those from this report, suggest that it is aligned to become the largest market for smartphone sales within the next handful of years.
The report also suggested that there is a significant opportunity for boosting industries that would allow smartphone components. This would allow the mobile phone manufacturing industry to rely on local sourcing. These components could include everything from non-electronic parts to the battery pack, packaging, and the accessories sold in conjunction with the mobile devices. That said, the report acknowledged that more time would be required before the country would be prepared to locally source electronic smartphone components.