Solyo.io introduces a revolutionary QR Code Marketing Platform. Solyo.io makes any product smarter and enables brands of all size to engage richer conversations with their customers, at the right moment of need.
Tailored experience for each moment of need
In-store, QR codes powered by Solyo, will present pre-sales information such as in-store coupons, product presentation, product authentication or product ratings. By detecting the store where the QR code is scanned, a coupon specific to each store is being presented : One QR code enable hundreds of retailers.
At-home, the very same QR code will display post-sales engagement : Add-to-cart button for instant refill, stores nearby, surveys, product instructions or chat with customer service.
One QR code enable hundreds of retailers
Possibilities are limitless through the intuitive self-service Solyo platform and the collection of Solyo widgets, to build stunning campaigns within minutes. Through Native integration with Amazon, Shopify, Mailchimp, Vivino or HubSpot to name just a few, solyo.io puts QR codes on Steroids and boost customer engagement practices.
The number one priority of most innovative brands
 Customer experience has become the number one priority of most innovative brands. Solyo Analytics will measure all customers interactions in real-time, capture new leads, benchmark your product placement per store, collect feedbacks and many actionable insights to grow brands.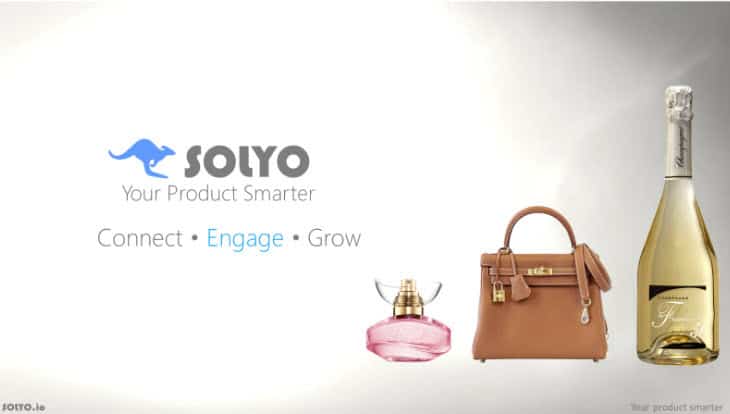 About Solyo
Located in the heart of Silicon Valley, Solyo provides a first-class solution to disrupt the customer engagement space, engaging consumers with stunning mobile experiences, at the right moment of need.  Whether a boutique retailer, or a major producer of consumer goods, Solyo has a solution that will "wow" consumers. By making every product smarter, across industries such as cosmetics, food & beverages and fashion, Solyo is changing the way brands and retailers reach, and keep their valued customers. To learn more about Solyo, please visit: https://solyo.io. Solyo supports QR Codes and NFC Tags. 
Quote
"Solyo makes any product smarter and sets a new standard for QR Code customer engagement practice."