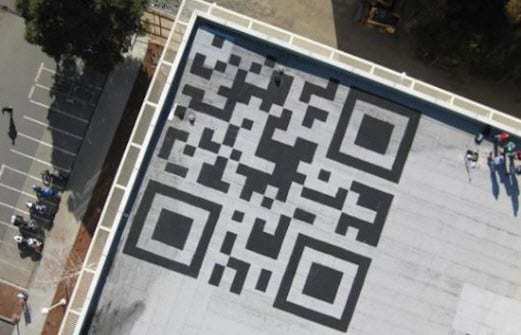 In a recent hackathon by the Facebook Intellectual Property team, a 42 foot long QR code was created on the roof of the new Facebook office building.
A member of that team, Mark Pike, came up with the idea after having read a blog post by Mark Zuckerberg, the CEO of Facebook. The post inspired him, as it encouraged the company's employees to decorate and spray paint the new Facebook office. Pike took this concept of a "Space Hackathon" quite literally and wanted his hackathon – based on a QR code – to be visible from space.
According to Pike, the biggest struggle was the decision as to the materials that should be used in order to create the QR code. Initially, they'd considered wood, but determined that this would be too expensive and too challenging to bring up onto the roof. Moreover, there would be issues with rot and with pieces blowing away in heavy winds.
Next, tile was considered, but it would also be too costly, but tile is also too heavy and would be too challenging to paint.
Finally, Pike decided to have a look at the roof itself and see if the QR code could simply be painted directly to the roof itself. This was the decision that was finally made.
The creation of the giant QR code involved two dozen designers and engineers, who all climbed onto the Facebook office roof armed with chalk, paint, paint rollers, and beer. They continued for several hours and finished at approximately midnight.
The day after the creation of the QR code, they used a Canon SD790IS camera strapped to a quadcopter to snap a photograph of the code. Their hope is that people will use a satellite map to zoom in on the Facebook office and will see the code.