Fans of world-famous K-Pop boy band are on the hunt for QR codes.
BTS QR codes are being displayed in undisclosed locations across seven international cities. The BTS ARMY, the name of the South Korean Pop (K-Pop) boy band BTS' fanbase, has been tasked with finding and scanning the codes to contribute their knowledge and love for their favorite band on ARMYPEDIA.
There will be 2,080 QR codes for fans to scan.
The seven international cities where fans can search for BTS QR codes to participate in the ARMYPEDIA campaign, include Seoul, Tokyo, Hong Kong, Los Angeles, New York City, London and Paris, reports Teen Vogue.
There are total of 2,080 QR codes to find. This number represents the number of days since BTS (also known as the Bangtan Boys) first formed six years ago. Some of the quick response (QR) codes are in the shape of puzzle pieces, displayed beside a caption that reads "Hey ARMY! Lost this?".
Each BTS QR code is linked to a specific date in the BTS timeline.
When an ARMY member scans a QR code that they either find in real life or online, they'll be able to access the ARMYPEDIA page for that date and add relevant BTS information that corresponds with this date. The ARMYPEDIA is a Wikipedia-inspired site dedicated solely to BTS.
AMRY members who wish to participate in the ARMYPEDIA campaign can learn everything they need to know to take part by following the step-by-step guide provided by Armypedia.net. In the tutorial, fans will be shown an example of a locked page where the QR code needs to be scanned in.
To make sure that only true BTS ARMY members are contributing, once a participant adds the code to the locked page, they will then be asked to answer a trivia question about the band. The fan who correctly answers the question will win the puzzle piece and be permitted to enter information into that ARMYPEDIA entry.
In regard to the type of information that can be entered, fans can contribute written messages, art or video. The more information a fan adds, the more points they will earn, which will be tallied up once the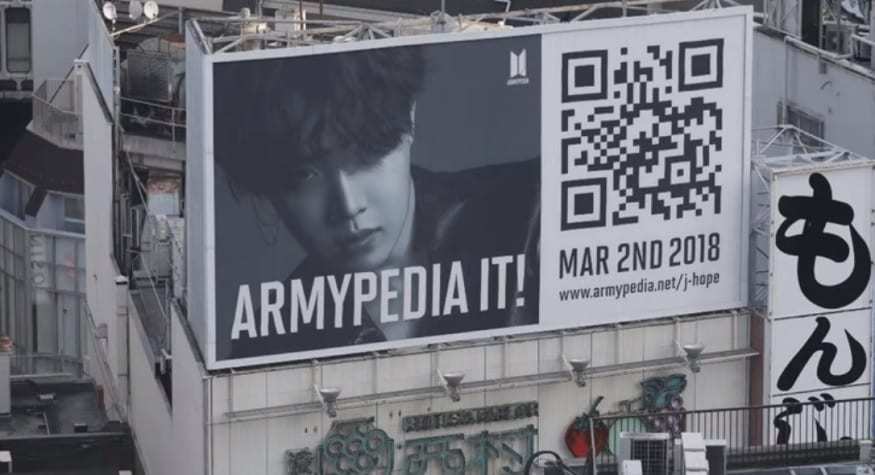 ARMYPEDIA campaign concludes on March 24, 2019. The top earning 2,080 ARMY contributors will win a special gift from Big Hit Entertainment, the South Korean entertainment company behind BTS.
The BTS QR codes part of the campaign official launched on Feb 25, 2019.