These unique quick response codes provide information about the full life cycle of those products.
BMW has decided to take it upon itself to change the way tires are registered by branding each one with unique tire QR codes that will make it possible to trace that product throughout its individual life cycle.
The new quick response codes were unveiled in Germany at the REIFEN Show by 4JET Technologies.
The tire QR codes solution was created by 4JET Technologies and is called SCANNECT. At the REIFEN Show, they were the winners of the "Service Concept and Process Optimization" category of the 2016 Innovation Award which was presented at the show. With this solution, each tire is marked with its own unique QRcode. These quick response codes are marked both on the exterior and interior side walls either during the manufacturing process or at the point of sale.
These tire QR codes allow the products to be quickly and easily identified through a smartphone with a barcode reader.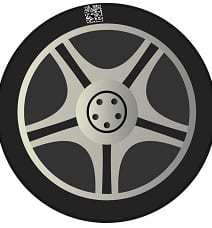 These QR code reader apps are very common and are typically free and easy to use. They're widely available for both Apple iOS and Android based mobile devices. Through the use of this simple code, it would mean that tire technology and life span labeling would no longer need stickers with barcodes that are easily damaged or that go missing. It would also mean that there would be no more need for molded barcodes that are done by batch as opposed to being unique to the individual tire.
These codes would also replace the RFID tags that require specific barcode reading hardware as is the case with traditional text serial codes and UPC codes that need either a specific device or for a long string of numbers to be entered manually.
SCANNECT has been designed to provide a direct link between a customer and a web-based resource management database. Florian Schreiber, the director of tire industry, explained that BMW is already demanding that it use these tire QR codes as a standard for its 1 Series and 3 Series releases as soon as 2018 and 2019. Schreiber also pointed out that Audi has very similar intentions. "It allows full traceability of the tires for the car manufacturers and the original equipment manufacturers," he explained.