The Quick Response Indonesia Standard (QRIS) code system has been released.
Bank Indonesia (BI) has finally launched its national QR code payments standard, the QRIS code system. The goal of this system is to universalize cashless payment in the country.
The system allows for a consumer to transfer funds from one payment system to any other within the BI ecosystem.
As QR Code press reported back in April, Bank Indonesia, Indonesia's central bank, had been working on conducting a trial to establish national QR code payments standards for the country's many different payment system providers.
BI has been developing QRIS since 2018 in coordination with other banks, financial institutions, interbank network providers and eWallet service T-cash (now LinkAJA). The system gives users of one payment service the ability to transfer funds to any similar service within the BI ecosystem.
For instance, The Jakarta Post explains that a customer who uses the eWallet service LinkAJA could transfer funds to a vendor who uses the eWallet OVO, as long as either the customer or the vendor has a QRIS code.
"QRIS allows QR-code-facilitated payments [in Indonesia] to be interconnected and interoperable through a single standardized code," said BI governor Perry Warjiyo during the launch ceremony in Jakarta, reports The Jakarta Post.
Indonesia's new national QR code payments standard system is based on the EMV international standard.
Bank Indonesia reportedly based the QRIS pattern on the Europay, MasterCard and Visa (EMV) international standard.
According to BI deputy governor Sugeng, the reason the bank choose QR code technology over other digital technologies is that the cost of deployment was far less than what it would have been for other cashless options, such as RFID tags and chip cards.
More specifically, the deployment of quick response (QR) codes can be as inexpensive as printing the code and downloading a smartphone apps. Meanwhile, tags and cards require shopkeepers to purchase the necessary EDC reader machine, which carries a minimum cost of Rp 450,000 (US$31.26).
The country has 65 million micro, small and medium enterprises and many of them cannot afford card reader machines. Therefore, having a low cost system is imperative for the national digital payments standard to work.
"We believe that such a modern fast payment system is vital to support economic activity in Indonesia, where economic growth is still at around 5 percent. We believe that if the digital economy players leverage this new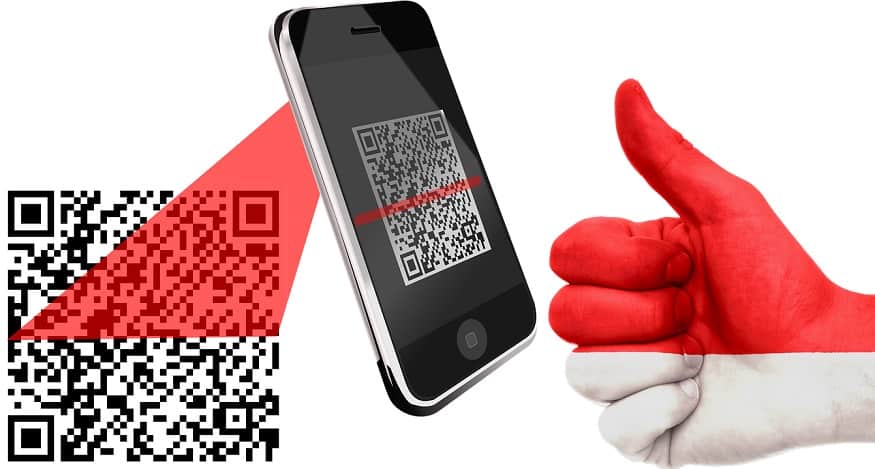 payment system, growth may be above 5 percent in the years to come," Sugeng said of the new national QR code payments standard.