The manager of the Yankees demonstrated his new mobile game, Portalball.
Joe Girardi, the New York Yankee's manager, typically makes headlines for guiding his team to hold the first place, but recently he was in the spotlight as he showed off his new augmented reality science-fiction baseball game app, called Portalball.
This mobile game is available for free for users of iOS and Android based devices and features in-app purchasing.
The application was launched mobile app development company Appetizer Mobile. It provides the user with the ability to use the smartphone camera to allow them to take part in a virtual baseball game. Within it, they need to hit balls that have been pitched to them, throw the ball, or catch it. The balls come from and are sent into portals that appear in augmented reality over the 360 degree view of the real world, which is used as the game's playing field. This game can be played wither in solo mode, or as a multiplayer experience.
Girardi admitted that he is not much of a video game player, but he gave a fun demo of the augmented reality app.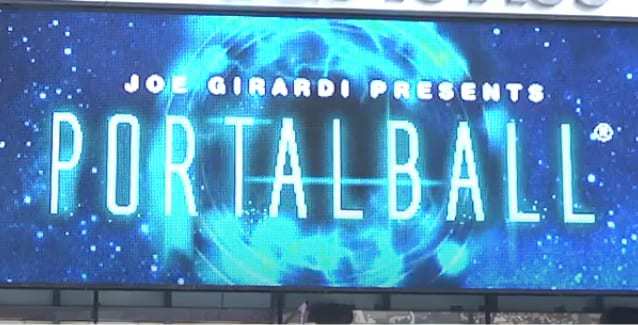 The creator of the AR game, Jordan Edelson, proved to be much better at the game than Girardi. Despite the fact that Girardi isn't usually a video game player, he did explain that "I do sometimes during downtime play a game here and there," adding that "To me it was important to get involved because it's also another way to stay connected with my kids."
Though this mobile game was developed as a for-profit product, there is a charitable component to it. Some of its proceeds are going to be donated to the Yankee manager's Catch 25 Foundation charity, which has been designed to assist people who are struggling financially as a result of a number of different kinds of circumstances.
The game, itself, has been well received, so far. The reviews of the augmented reality experience have been positive for the most part. The fact that this mobile game is also helping to contribute to a charitable cause also seems to be encouraging people to download, even if they may not otherwise have given it a try.