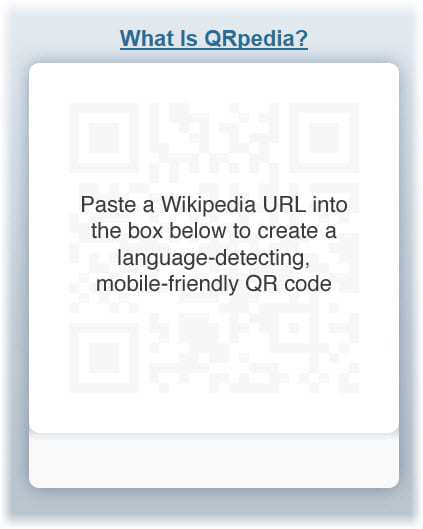 Wikipedia has launched a new initiative that is aimed at making web content more accessible to people of differing languages. The non-profit information organization has launched a new website called QRpedia. The website has existed since April of this year, but its release was made official only yesterday. The website will use multilingual QR codes to help people find the content they are looking for in a language they can understand.
QRpedia features a simple QR code generator that will produce a code when users supply a Wikipedia article. The generator then detects the language of the article and creates a code for that particular article. When the code is scanned with a smart phone, it will take users to the mobile-optimized Wikipedia article.
The initiative was born from a partnership between the Derby Museum and Gallery in the UK and Wikimedia contributors in the region. The team began generating language-sensitive QR codes so that those visiting the museum from other countries would have a better time enjoying the exhibits.
QR codes have become one of the best methods of information distribution currently available. As smart phones become more prominent in everyday life, the codes are playing a bigger role in how people interact with each other. While are simple, their importance to the mobile world is becoming more apparent each day. As the codes continue to grow in popularity, they may soon become a viable way to break down language barriers.