The very small sized device will retail for only $109 and will run on Android 7.0.
The Jelly smartphone may be exceptionally small but it's making a very big splash by standing out in a crowded market. With a teensy 2.45 inch display, the device will cost only $109 and will run on Android 7.0. In a marketplace where screens are getting bigger, this tiny device is definitely different.
Moreover, the creators of the Jelly phone have already achieved fully-funded status on Kickstarter.
Big networks and tech companies have all followed a trend to drive consumer interest in smartphone upgrades. It's how they make a lot of their money. These new devices have been getting bigger and more complex. With that direction has come a bigger price tag and a tougher job carrying and storing these massive mobile gadgets.
The Jelly smartphone, on the other hand, has gone in an entirely new direction. It's as though the creators of the device looked at everything Samsung, Apple and Google have been trying to achieve, and has then done the opposite. That said, this very small Android phone is still meant to be modern with tremendous appeal.
The ultra-low price tag is only the jumping off point for the draw of the Jelly smartphone.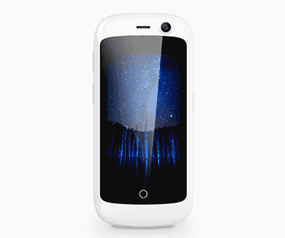 This device also features a microSD card slot, a removable battery and even has dual SIM card support. These are all features that are either absent from the top mobile technology manufacturers' devices or that have been phased out over the years.
That said, those features, as well as the very small size, also seem to be drawing considerable attention from Kickstarter supporters to potential customers who are eager for the release of the device.
The company behind the Jelly, Unihertz, says that despite the fact that it's fully funded on Kickstarter, the device can still be ordered through an investment as low as $69. Delivery is expected to start in August. It has 1 GB of RAM, 16 GB internal storage ,1.1 GHz quad-core processor, a 2.45 inch five-point touchscreen with 240 by 432 resolution, 4G LTE, a 950 mAh battery, Dual nano SIM card slots, an 8 MP rear facing camera and a 2 MP front-facing camera, Bluetooth 4.0, 802.11 a/b/g/n 2.4GHz/5Ghz WiFi, G-Sensor, GPS, gyroscope, compass, and operates on Android 7.0 Nougat.
Moreover, there is also an upgraded Jelly smartphone. The Jelly Pro doubles the onboard storage and RAM and can be ordered with a Kickstarter investment of as little as $95.