QR Code Press » Entries tagged with "QRTribe t shirts"
July 4th, 2012 | Add a Comment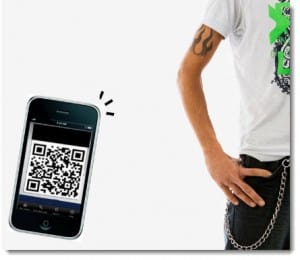 Whether this barcoded apparel will be considered cool or desperate has yet to be seen. QRTribe apparel has just released a product line including QR code tshirts that features a customized barcode that can be scanned by smartphone users in order to obtain information about the wearer. Only time will tell whether or not this new fashion will catch on. At the moment, it has the potential to occupy a specific niche market. It allows the consumer to … Read entire article »
Filed under: Featured News, Mobile Marketing, QR Codes, Social Media Marketing
About QR Code Press and MCommerce Press
We highlight the latest in the world of Mobile Commerce news so you can keep updated with the coolest technology available! Join us and explore the changes in how the world does business with new technology like Near Field Communications that enable mobile payments, Augmented Reality Apps, QR Code marketing techniques and Social Media marketing tactics. Learn from others how you can take your mobile marketing campaign to the next level by implementing successful mobile strategies. Enjoy and thanks for stopping by!