QR Code Press » Entries tagged with "axe puerto rico qr code"
June 27th, 2012 | Add a Comment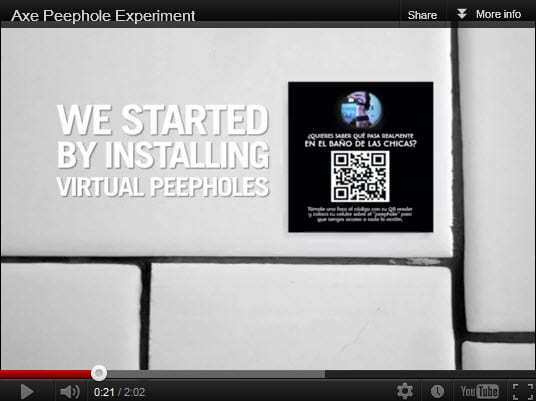 Huge peeping tom campaign in Puerto Rican discos and bars spread like wildfire. Axe Body Spray used QR code marketing to spread its famous tagline "the ultimate weapon to get the girls" through a unique new strategy that had men in public washrooms "peeping" on women in the form of steamy videos. When the quick response barcodes were scanned, they resolved to a video into the "ladies room". The video included scenes such as a woman leaning over … Read entire article »
Filed under: Featured News, Mobile Marketing, QR Codes, Social Media Marketing
Pages
About QR Code Press and MCommerce Press
We highlight the latest in the world of Mobile Commerce news so you can keep updated with the coolest technology available! Join us and explore the changes in how the world does business with new technology like Near Field Communications that enable mobile payments, Augmented Reality Apps, QR Code marketing techniques and Social Media marketing tactics. Learn from others how you can take your mobile marketing campaign to the next level by implementing successful mobile strategies. Enjoy and thanks for stopping by!