Tablet users show that they are enthusiastic when it comes to mobile shopping
As mobile commerce continues to grow in the U.S. and elsewhere, tablets are becoming the devices that consumers enjoy shopping on the most. Tablets are beginning to have a major impact on the way that people shop online, but retailers have yet to take tablets seriously when it comes to matters concerning mobile commerce. A recent report from BI Intelligence highlights the growth of tablets in e-commerce and highlights the trends that are emerging among consumers with these mobile devices.
Tablet users spend more money and shop online more frequently than smartphone users
According to the report, total mobile spending from tablets and smartphones has accounted for more than $30 billion in 2013. The report indicates that consumers are spending more of their time shopping from a mobile device than actually visiting physical stores. A similar report from comScore shows that mobile now accounts for 59% of all sales in the e-ecommerce space. Smarphones are being used for general shopping and represent modest spending, while tablet users tend to spend time shopping for specialty goods that are more expensive than general products.
Retailers are falling behind when it comes to tablet engagement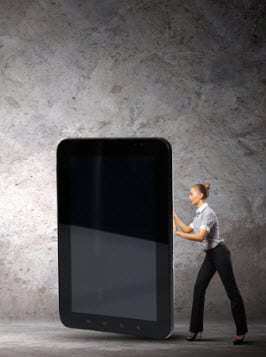 The report shows that tablet users are driving more sales than their smartphone counterparts. BI Intelligence anticipates that this trend will continue well into the future, especially as more retailers begin to recognize tablets as a powerful mobile commerce tool. Currently, however, that majority of retailers are focusing their mobile initiative on smartphones. Even mobile marketing campaigns are being designed for smartphone users despite the fact that tablet users have shown that they are much more receptive of mobile marketing efforts.
Retailers may soon pay more attention to tablet users
Tablet consumers are not restricted to any particular market. These people can be found all over the world and have shown that they are quite enthusiastic when it comes to mobile shopping. Retailers may soon begin focusing more heavily on tablet users, but many are likely to remain focused on smartphones for some time. Currently, one of the most serious criticisms that tablet users have concerning mobile commerce is that many retailers do not optimize their websites for tablet devices.