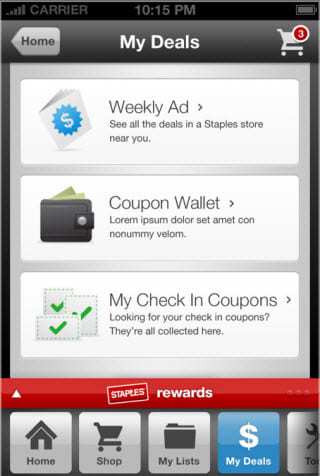 Staples has redesigned its app following a survey of customers to determine what would make their shopping experience with the merchant simpler and more convenient.
The result was that the new application now includes a bar code scanning feature that allows customers to perform easier searches and faster ordering. The office supply store is known for its significant research and testing and for its focus on the customer's participation in developing the m-commerce experience.
Staples.com vice president of e-commerce and business development, Brian Tilzer, said that the new application has been completely revamped. He explained that it now concentrates on the elements of shopping that are typically considered to be the biggest nuisance. He added that "We believe this app will become the ultimate shopping companion for our small business customers."
The app has now been released for iPhones and includes mobile check-ins. This feature is comparable to those used by popular mobile social apps such as Foursquare and Shopkick. A version compatible with Android devices will be soon to follow in the upcoming weeks.
When a mobile Staples customer uses the iPhone app and is close to (or inside) a store location, the app uses the GPS technology in the iPhone to detect the consumer's location. A special offer is then provided by the app so that the customer can use it at that store's location.
Tilzer said that this feature is one of the areas in which the company still needs to experiment as they are hoping to have customers use the app actively and frequently, since it provides increased value to the overall in-store shopping experience.