QR Code Press » Augmented Reality, Featured News, International, Mobile Marketing, Social Media Marketing, Trends » South Korean social network Ovjet uses augmented reality to stand out amongst the competition
March 7th, 2012 | Add a Comment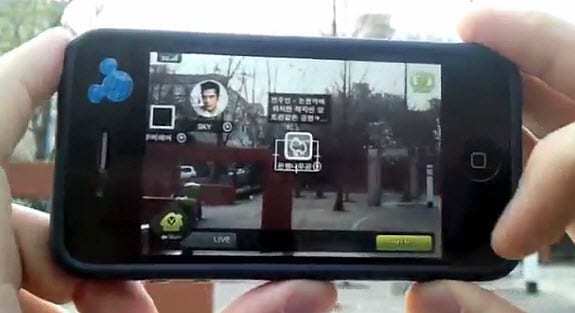 South Korea's Kiwiple is virtual unknown outside of its home country. The company specializing in social networking and its associated technologies and has some big plans on how to make itself the biggest name in social media since Facebook. The company managed to gain some attention around the world in 2010 when it showed off a new augmented reality application for smart phones that was linked to its Ovjet social networking platform. Kiwiple now has ambitious plans to take this application to the next level and become one of the first social networks to make use of augmented reality.
The company's app allows smart phone users to scan a crowd with the phone's camera. Using image recognition, the app can find people that are on the Ovjet social network and provide the user with information that can be found on their profiles. The app has been downloaded more than 11 million times, showing impressive growth since its launch in 2010. Kiwiple now has plans to make Ovjet its flagship project, believing that it will have the capability to overshadows services like Facebook and Twitter.
Ovjet is, essentially, a mixing of all the most popular social media platforms today. Ovjet features services similar to Twitter, Facebook, Foursquare and even some dating websites. The major difference, of course, is that the platform relies and implements augmented reality. As such, it is one of the more engaging forms of social networking currently available.
Filed under: Augmented Reality, Featured News, International, Mobile Marketing, Social Media Marketing, Trends · Tags: 3d augmented reality, augmented, augmented reality, augmented reality advertising, augmented reality applications, augmented reality apps, augmented reality browser, augmented reality companies, augmented reality company, augmented reality developer, augmented reality developers, augmented reality marketing, augmented reality mobile, augmented reality program, augmented reality programs, augmented reality software, augmented reality technology, augmented virtual reality, kiwiple, kiwiple augmented reality, mobile augmented reality, ovjet, ovjet augmented reality, social media advertising, social media augmented reality, social media expert, social media marketing, social media marketing campaigns, social media marketing strategies, social media marketing strategy, social media marketing tactics, social media marketing trends, social media sites, social media software, social media strategies, social media websites, social network marketing, social networking augmented reality, social networking marketing, south korea ar, south korea augmented reality, using social media for marketing
Pages
About QR Code Press and MCommerce Press
We highlight the latest in the world of Mobile Commerce news so you can keep updated with the coolest technology available! Join us and explore the changes in how the world does business with new technology like Near Field Communications that enable mobile payments, Augmented Reality Apps, QR Code marketing techniques and Social Media marketing tactics. Learn from others how you can take your mobile marketing campaign to the next level by implementing successful mobile strategies. Enjoy and thanks for stopping by!