QR Code Press » Featured News, Mobile Commerce, Mobile Marketing, QR Codes, Social Media Marketing, United States » Scan Closes $1.7 Million Seed Funding Led by Menlo Ventures; Launches Scan Pages
February 25th, 2012 | Add a Comment
Scan Allows Businesses and Individuals to Quickly and Easily Create and Share a Mobile Site
Scan, Inc. (www.scan.me) announced $1.7 million in seed funding from top venture capital firms and notable angel investors. Scan connects the real world with the digital universe through mobile technologies like QR codes, NFC, image recognition and more. Menlo Ventures led the round, with venture capital participation from Google Ventures, Charles River Ventures, Yuri Milner's Start Fund, Social + Capital Partnership, Transmedia Capital, and Ludlow Ventures. Scan's angel investors include Ariel Poler, Naval Ravikant of AngelPool, Jim Pallotta of Raptor Group and Troy Carter.
In less than a year since the release of its app, Scan has seen more than 10 million downloads from the App Store and Android Marketplace and is currently used in more than 77 countries around the world. Scan will use the new funding for hiring, as well as product and market development.
Introducing Scan Pages In addition to the funding, today Scan announced it is taking QR codes to the next level with the introduction of Scan Pages, user-friendly mobile websites accessible via custom QR code or short URL. Scan Pages give businesses and individuals the opportunity to quickly and easily create a mobile site. Scan Pages bring together everything a business wants to share with its audience in one place including branding, social media, videos, blogs, other valuable content and calls to action. Scan also provides insights into how many times a QR code has been scanned, from where, and other useful statistics for businesses interested in learning about the overall effectiveness of marketing and branding campaigns.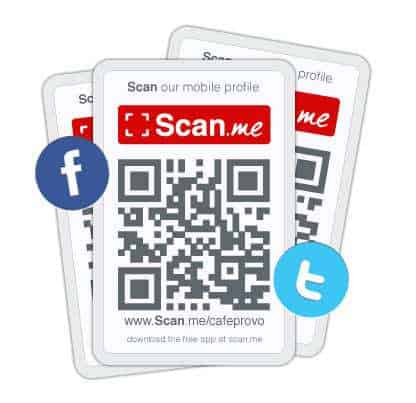 Brands already using Scan Pages to engage with customers and fans include Barneys New York, Kroeger's, Lady Gaga, People Water and others.
"QR codes and other mobile technologies have always had enormous potential, but until now they have been held back by poor experiences and incomplete products," said Garrett Gee, CEO and co-founder of Scan. "Scan fulfills the promise of these technologies by creating direct connections and valuable information exchange between businesses and consumers."
"Scan changes the way we interact in the world via our mobile devices by creating a two-way conversation," said Shervin Pishevar of Menlo Ventures. "Scan re-imagines the QR code; with actions like Scan to Like, Scan to Check-In and Scan to Follow, businesses instantly connect with their customers and create a meaningful interaction."
Further details about Scan Pages and more are available in Scan's company blog: www.scan.me/blog/
Filed under: Featured News, Mobile Commerce, Mobile Marketing, QR Codes, Social Media Marketing, United States · Tags: benefits of social media marketing, best social media marketing, business social media marketing, m commerce, marketing through social media, mcommerce, mobile commerce, mobile commerce news, qr code, qr code company, qr codes, scan, scan me, social network marketing, social networking marketing, using social media for marketing, what is social media, what is social media marketing
Get It – Hot Mobile Trends Newsletter!
Mobile Commerce News Video:
About QR Code Press and MCommerce Press
We highlight the latest in the world of Mobile Commerce news so you can keep updated with the coolest technology available! Join us and explore the changes in how the world does business with new technology like Near Field Communications that enable mobile payments, Augmented Reality Apps, QR Code marketing techniques and Social Media marketing tactics. Learn from others how you can take your mobile marketing campaign to the next level by implementing successful mobile strategies. Enjoy and thanks for stopping by!