QR Code Press » Featured News, International, Mobile Commerce, Mobile Marketing, QR Codes, Trends, United States » Report shows the growing popularity of QR codes around the world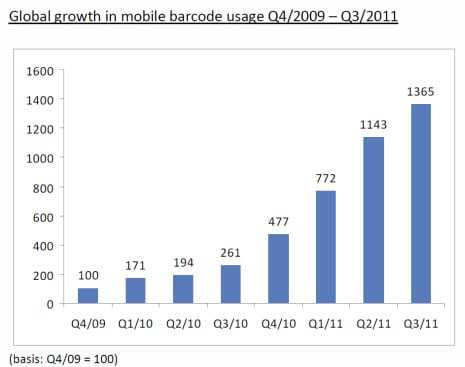 3GVision, a leading mobile technology company specializing in barcodes, has released their latest report concerning the global growth of QR codes. The company has been releasing these reports at regular intervals for the past two years as a way to help those invested in mobile marketing gauge the progress of QR codes. The report shows that consumers throughout the world are beginning to make use of QR codes. Should these trends continue, the codes are likely to become one of the most powerful marketing tools in the world.
According to the report, global use of QR codes has grown by 20% since the second quarter of this year. The report notes that the region experiencing the most growth is the Czech Republic, in which QR code use has grown by 66% since the second quarter of this year. The U.S. continues to hold the top spot in terms of code usage, followed closely by Germany, Canada and the UK.
The report notes that the codes are most often used in varying kinds of marketing campaigns, which may be why consumers are so willing to scan them. The majority of the codes are linked to discounts or giveaways of some kind, with relatively few companies using the codes for information distribution or promotion.
Japan was excluded from the report for the sake of clarity, as QR codes are already very popular throughout the nation.
Filed under: Featured News, International, Mobile Commerce, Mobile Marketing, QR Codes, Trends, United States · Tags: 3GVision, Canada mobile marketing, company specializing in barcodes, Czech Republic mobile marketing, Germany mobile marketing, global growth of QR codes, global use of QR codes, international mobile marketing statisics, international report on qr codes, mobile marketing, mobile marketing news, mobile marketing statistics, mobile technology company, news for mobile marketing, powerful mobile marketing tools, progress of QR codes, qr code, qr code growth, qr code marketing, qr code marketing campaigns, qr code scanning statistics, qr code statistics, qr code survey, qr codes, quick response code, report on qr code scanning, UK mobile marketing trends, US mobile marketing trends, us use of qr codes