The quick response codes have been added so that consumers can make informed choices.
The Zego energy bar has redesigned its product packaging and is using QR codes in order to better provide consumers with the information that they need in order to determine whether the products that they are considering contain any substances to which they are allergic or to which they have sensitivities.
The brand has added quick response codes to all of their energy bar wrappers, where they are easily visible.
That said, Zego hasn't stopped at QR codes. The packaging does now feature the barcodes right on the front where they can be easily spotted by consumers who want to check the allergen level of the product. However, the brand has also added an additional mobile friendly component to their marketing through an NFC technology based shelf talker. This is a direct reflection of the San Francisco based brand's dedication to ensuring that their foods are always safe for the people who want to eat them.
Scanning the QR codes provides a direct link to information about the allergen content of the organic energy bar ingredients.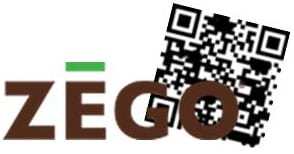 According to co-founder of the company, Colleen Kavanagh, "The Zego QR code allows consumers to have better control over their food safety." She went on to explain through the use of the following example "knowing a 'gluten-free' product's testing measured less than 5 parts-per-million gluten compared to FDA's allowable 20ppm enables very sensitive people to make safer choices. This is even more important for those with peanut or dairy allergies, which can cause fatal anaphylactic shock."
When the QRcode is scanned through the use of a smartphone or a tablet, the mobile device user is able to access a webpage that is specific to that product and reveals the measurable quantities of 9 specific major types of food allergen. This is an increase over the previous number of allergens that they provided, which was 6.
The information provided through the QR codes is accurate right down to the specific batch of the product. Every batch contains about 22,000 bars. It informs consumers about the potential presence of dairy, eggs, soy, peanuts, almonds, walnuts, pistachios, hazelnuts, and gluten.