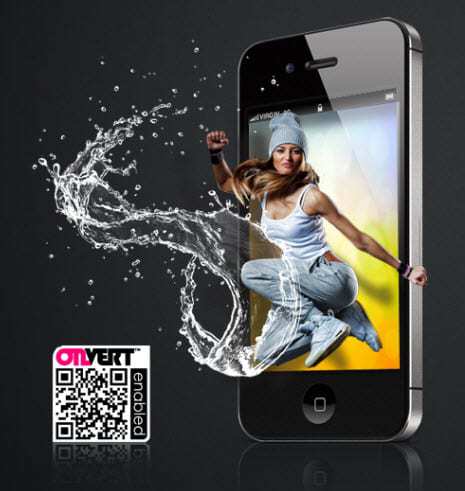 What's a QR Code? They are those rather odd looking black and white square barcode now appearing in your magazines, newspapers and on your favorite products. By scanning them with an app on your phone they can open websites.
Truth is we believe the QR code is just a bit, well, boring.
Why not shake it up – perhaps add 3D layers, and sound? That humble QR code can do so much more for you if it's an onvert™ code. Onvert can do everything a QR can do plus 3D graphics, social media and sound.
Onvert gives you the chance to wow consumers by doing something different; something they never thought was possible. What's more, onvert fits straight into existing marketing and is so easy to put together, your existing design team can make use of it today, at no cost, no coding and no catches.
By making use of technology already available in smartphones and tablets, you can create a campaign today using onvert. Creating an onvert is very simple as it requires no technical knowledge and most print or digital designers will be able to create their first Augmented Reality in less than an hour.
Overlay 3D layers onto your product packaging, adverts and campaigns just by attaching an onvert code generated by our free service. View our demo videos, or download the free app to try some existing onverts, as seeing really is believing.
The increased consumer engagement the campaign creates can dramatically improve sales as consumers spend more time interacting with advertising. Studies have already shown that by augmenting traditional media with these methods can increase likelihood of sale by 60%, increase perception of value by 30% and lengthen engagement by over 500% vs. traditional print advertising.
Try onvert for your next campaign, with no obligation to enter into any long term subscription or setup. The codes still act as standard links should a consumer not have the onvert app installed on their phone, therefore no risk of losing important conversions.
A Pro version is to be launched later this year to build upon the existing platform, and provide value-added services such as video, detailed statistics, 3D models, and "buy now" functionality.
Take your brand to a new dimension today.
For further information, please visit onvert.com/press March 2012 Notes to Editors
For more information, please see onvert.com or contact creators, Harmony Internet on +44 1767 317614.
onvert™ is the world's most accessible Augmented Reality. The service combines QR codes and target recognition to allow for the layering of 3D content over a 'target' design – providing Augmented Reality to campaigns. 30 seconds of sound can also be added for a full multimedia effect. The service is free of cost and coding, allowing the majority of designers to create
onverts without restriction.
Harmony Internet Ltd, are the Clever Web People, established in 1995 by Managing Director, Jason Higgins. Harmony specialize in Augmented Reality and web marketing. From their base in Biggleswade, Bedfordshire, they create smart, innovative and achievable solutions for national charities such as the RSPB, and businesses in a diverse range of markets. More information at harmony.co.uk