The vehicle was spotted covered in the quick response codes in a location near Nürburgring, Germany.
A new prototype for the Pagani Huayra has recently been spotted in Germany and this model that was covered in QR codes has broken away from the thought that there will only be an open top version available.
The new design of the prototype suggests that there's going to be a much more hardcore model in the future.
The intended 100 Huayra production run at Pagani is about to come to an end (and don't get any dreams in your head of buying one, since all 100 of the build slots have already been sold). Once those are done, the company has announced that it will be focusing on a Huayra Roadster that will have an open top and will also be limited to 100. That said, if anyone has been thinking about grabbing up a coupe at some point in the future, you're in luck. A new prototype coated in QR codes has been spotted and it looks like it's all-out coupe.
The Huayra prototype covered in QR codes was seen in Germany near Nürburgring, where pictures were snapped.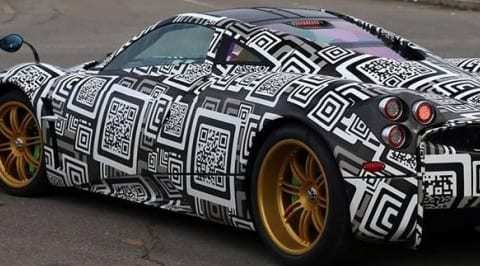 The current model of the Huayra first debuted back four years ago in 2011. There are a lot of changes on the way according to the prototype, aside from the fact that every external inch of it appeared to be covered in QRcodes. In case you are wondering what happened when the quick response codes were actually scanned, you will likely be disappointed in what is seen, so far. They currently direct users to a video that simply displays the message "to be continued".
The prototype looks as though it has an all new front splitter, some vibrant green brake calipers, and has exhaust pipes with a larger diameter. All of these details were observed by those who spotted the prototype, as the QR barcodes didn't provide any details or information at all. It is believed that the current URL connected to the QR codes is only a holding place for what will soon be a video about the upcoming model.