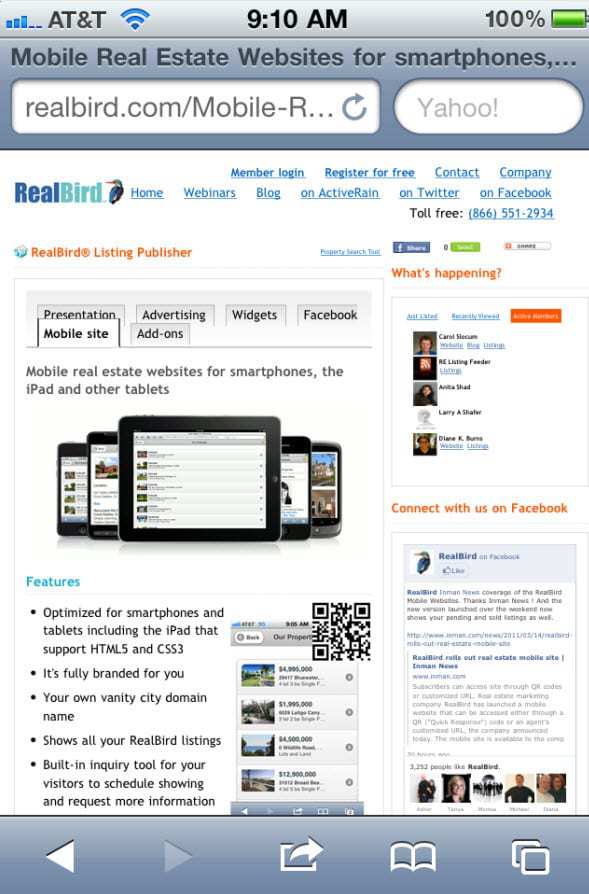 RealBird Inc., a provider of electronic marketing resources for real estate industry professionals, has announced the release of their mobile website designed specifically for real estate agents is now available for use. The website will allow potential buyers to browse property listings via their smart phones. Buyers can also set up appointments for tours and sign up for regular updates from agents. The site will be able to be accessed by scanning QR codes that will be available on property signage and flyers.
"Mobile websites and QR codes have now joined the list of many ways that consumers use to shop for real estate," says RealBird CEO, Gabe Gross. Since the company was founded, it has pursued means to help empower agents in their dealings with customers. Gross remembers the days when blogging and single property websites were considered a novelty. Today, they are a staple of marketing.
QR codes are experiencing some of the skepticism that other electronic marketing tools faced in the past, but are overcoming these challenges as more businesses show that they can be used effectively in marketing campaigns. With a new generation of tech savvy consumers entering the market, realtors cannot afford to miss opportunities to engage them.
RealBird provides access to their Mobile Website platform as a portion of their PRO service, which costs $99 annually. The PRO service offers other benefits, including a property search function and a QR code generator that helps agents make their own codes.