This high traffic mobile commerce news site can generate considerable exposure for announcements.
QR Code Press has now launched its easy-to-use platform for its affordable press release service that allows marketers to submit their announcements and event press without the need for any sign-ins, but still featuring the secure payment process of PayPal.
All that is required in the submit article process is two simple steps, including a copy-paste of the text.
In addition to the text of the press release, itself, the $5 article submission service also entitles marketers to up to three text links. Moreover, it also provides a simple to use button that allows for image uploading. Up to one image is permitted, per article, provided that the submitter owns the rights to that picture. Article submitters are welcome to add their own keywords in order to improve the search engine optimization of the release or announcement. This service uses well reputed SEO applications, and each submitted article will be manually checked by QR Code Press staff.
For this flat-rate low cost of $5, this press release service provides more than just a single presence.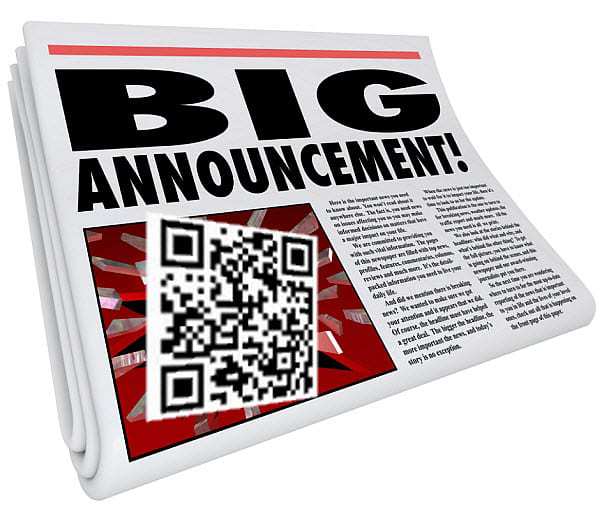 Once the article has been submitted and posted, it will be shared on the QR Code Press social media sites, it will be added to this Google News approved mobile commerce news website, and it will be featured in the site's weekly newsletter. The website, alone, reaches 3500 to 4000 visitors, every day. This reach, combined with that of social media and the newsletter can help to improve the exposure of any news release.
Mobile commerce news is very popular trend and it is growing fast. Currently, over half (an estimated 55 percent) of adults in the U.S. have smartphones. When looking at the millennial generation, that figure rises to beyond 85 percent. Businesses, marketers, and device users, alike are flocking to websites reporting on these subjects, to help to keep up with the latest tech, statistics, studies, and trends. When a press release is included in this mix, it spikes its chances of getting noticed.
Using a good press release service from a well reputed mobile commerce news website will not only help you to be noticed by your target market, but also by other media outlets, which could pick up the story and run it on their own sites, as well as share it in their own social network posts.